West Shore Students Win Hyland Innovation Showdown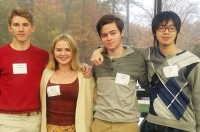 Congratulations Lakewood High School seniors Damian Barto, Hong Chen, Bryce Mitchell, and Wilson Reynolds, winners of the Hyland High School Innovation Showdown! Hyland Software sponsors the Innovation Showdown to encourage high school students interested in technology to use their creativity to come up with an innovative solution to a real-world problem and present a plan to market it.
Teams were comprised of four students who spent two Saturdays brainstorming with industry professionals on-site at Hyland Software and working independently at school. The winning team members are students in the West Shore Career-Tech Networking/Cisco program, led by teacher Dale Rerko.
Dubbed "Team Mitchell," the West Shore team's idea focused on solving the problem of lack of clean water in Third World countries. The team designed an inexpensive filtering device that attaches to the end of a hose that is used to deliver filtered water. The team noted that water trucks provided by governments in places such as Somalia and Ethiopia are often unsanitary and hoses used are not clean, causing waterborne illnesses to its citizens. The Team Mitchell device would filter out 90 to 99% of the bacteria which cause the waterborne illnesses.
The team presented their winning idea in front of IT professionals, college professors, and IT students on November 10 at Hyland in Westlake. Each member of the team earned a $500 scholarship and a smart drone for their winning concept.
Read More on
Volume 14, Issue 22, Posted 4:01 PM, 11.20.2018