Middies Sink Rangers 49-14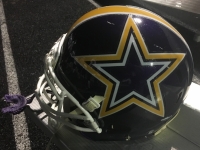 The LHS football team suffered a disappointing loss on Friday night, falling 49-14 to Midview. Turnovers and mistakes doomed the Rangers, who were coming off their first win of the year against Westlake. Lakewood senior Kyren Jefferson provided the highlight of the evening, setting the new school record for pass receptions in a season. The previous record (48 catches) was set in 1988 by Chip Chambers.
Midview struck first in the game, as Middie junior Dominic Roman scored a 13 yard rushing touchdown two minutes into the game. Lakewood responded with its own touchdown drive, going 64 yards in 11 plays to tie the game with 7:47 remaining in the first period. Sophomore Phoenix Jouriles caught the two yard TD pass from Ranger quarterback Albert Wilhelmy. Senior kicker Justin Crislip added the extra point to make the score 7-7. Midview scored its second touchdown less than three minutes later. Middie quarterback Andrew Gooch hit senior Isaih Johnson with a 39 yard touchdown pass to give Midview a 13-7 lead. The touchdown came on a 4th-and-6 play, and swung momentum into Midview's favor.
Lakewood junior Milan Jackson made a strong return on the ensuing kickoff, taking the ball all the way to the Midview 34 yard line. A pair of pass completions took the Rangers to the 20 yard line, where they seemed ready to tie the game with another score. However, Middie defensive back Zac Gill intercepted a Ranger pass in the endzone, snuffing out the drive. Three plays later Midview scored another touchdown, this one a 52 yard pass from Gooch to senior Edwin Ralat. Midview led 20-7 with under three minutes remaining in the first quarter.
Midview scored twice more in the first period to take a 34-7 lead at the break. Heavy rain began falling in the second quarter, soaking a chilly crowd. The lead grew to 49-7 at the half, setting the OHSAA "running clock rule" in motion for the second half. The Ranger offense mustered a pair of long drives in the second half, including an 84 yard touchdown drive early in the fourth quarter. That score made the final margin 49-14.
The Rangers return home to finish their season next Friday night against North Ridgeville. Those Rangers defeated Westlake 42-21 on Friday night to raise their record to 3-6 on the season. Kickoff is scheduled for 7pm at First Federal Lakewood Stadium.
Mike Deneen
Mike Deneen has extensive experience covering sports and community stories for the Lakewood Observer. Mike has been a Senior Industry Analyst for the Freedonia Group in Cleveland, Ohio, since 1998. He has appeared on CNBC's Closing Bell, NPR's MarketPlace and has been quoted multiple times in The Wall Street Journal. He has made multiple guest appearances on ESPN Cleveland radio. Mike also writes for Inside Northwestern, a website that covers Northwestern Wildcat Athletics. You can reach him on Twitter at @MikeDeneen1
Read More on Sports
Volume 14, Issue 21, Posted 11:16 PM, 10.19.2018