Haunts, History And Hidden Secrets Of The Lakewood Gold Coast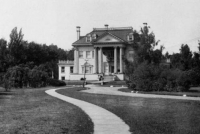 Ever wonder what life on the Gold Coast was like a hundred years ago? Was crime a part of the scene? Are there any haunted buildings or spooky places on the Gold Coast? On October 27, the Lakewood Historical Society will host a walking tour, and will share information of the Edgewater Drive/Lake Avenue/ Cove Avenue neighborhood from around 1918.
The high rise apartment and condominium buildings have replaced mansions that had large lawns, beautiful gardens and long driveways. What brought about that change? Who were the families that resided on what was referred to as the "millionaires row" of the west side? Those questions will be answered, and, in keeping with the season, a few little known and mysterious facts will be shared, with reports of a murder or two thrown in for good measure.
This tour will begin in front of Cove Methodist Church, 12501 Lake Ave., with information being shared at several stops along the walk. Groups will step off at 6 p.m., 6:15 p.m., and 6:30 p.m. Reservations and tickets are a must and are available at lakewoodhistory.org or by calling the Historical Society at 216-221-7343. Tickets are $10 each and include refreshments at the end of the tour.
Norine Prim
As First Vice President of the Lakewood Historical Society, I will be submitting info pertinent to the Historical Society for publication.
Read More on Features
Volume 14, Issue 20, Posted 2:25 PM, 10.16.2018