Keeping Up With Jamie Garrett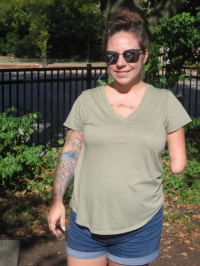 Jamie Garrett is a server at Deagan's Kitchen, an expecting mother, and an aspiring forensics student.

The fact that she's missing most of one arm is a fact of life, but it doesn't define her identity.

Even if you pass time at Deagan's, you may not notice unless Garrett serves your table. From further away she's difficult to distinguish from other staff. Bustling back and forth with plates and drinks, she keeps up with colleagues despite physical difference.

Someone else could carry more at once, all else being equal, and Garrett asks for help with things occasionally. But for practical purposes, she manages perfectly well.

Sometimes "they forget that I have one arm," she says of her coworkers.

The reality is more apparent for Garrett. Long practice has not made carrying groceries into the house easier, for example. She drives without problems, but manual-transmission cars are out of the question.

But this is essentially a reality she has always known. A quirk of fetal positioning meant that her left arm never fully developed. She's been learning to do things with just one hand since infancy, from tying her shoes to playing sports to playing an instrument.

Around third grade, Garrett briefly tried a prosthetic but it seemed alien to her. "I hated it," she recalls.

School classmates didn't always practice respect and understanding, but Garrett found good friends and refused to be left out of extracurricular activities. Growing up in Parma, she played fast-pitch softball as catcher, and learned the trumpet. By 16 she was working as hostess at an Outback Steakhouse, and she has worked in the service industry since.

Waiting tables was not a leap that she planned on, however. After graduating high school she moved to Lakewood, and went to work at Angelo's Pizza answering the phone. In the second year at Angelo's, though, a day came when someone had to pitch in, and "I thought I might as well try."

"I figured it would be difficult at first," Garrett says, but it went well enough that eventually she spent more time attending tables than phones. Based on the experience, she applied successfully to be a server at Melt Bar & Grilled, and most recently at Deagan's.

Garrett says she works 50 or sometimes 60 hours per week, now, and feels very appreciated by coworkers and regular customers. "I love my Deagan's family," she says.

Higher education remains on her mind as an eventual goal. Garrett says she's interested in criminal justice, possibly forensics. In the meantime, she's also contemplating a move back to Lakewood—from Fairview Park where she currently lives—and impending parenthood.

Despite a lifetime finding ways to do things with only one complete arm, Garrett expects real challenges from an infant. Though she hasn't regarded herself as part of a disabled community, generally, in this instance she is looking to others' examples for reassurance. "I've seen people succeed at this," she says.

As long as it's possible, Jamie Garrett is up for the challenge.
Matt Kuhns
Matt Kuhns is a freelance graphic designer, and occasional author.
Read More on Business News
Volume 14, Issue 18, Posted 10:34 AM, 09.18.2018