Explore Lake Erie With 'She Collective' This Summer!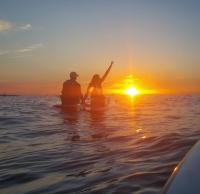 Have you always been curious about paddleboarding, but weren't exactly sure where to turn or how to begin? Look no further than She Collective, a unique space located on the first floor of Good Soil Lutheran Ministries right here in Lakewood! She Collective provides women and girls a safe place for connection, conversation, and community through many class offerings – including paddleboarding (all genders are welcome!). Instructor Ginny Walters wants to spread the word that paddleboarding can be a great way to unwind: "People think that paddleboarding is difficult, but it's really not. As my neighbor said her first time out, it's so relaxing it's like walking down the street!"
Ginny and the rest of the She Collective team are thrilled to be bringing paddleboarding to the community this summer along with many beloved weekly programs. They are particularly looking forward to weekly guided paddleboarding on the Rocky River and Lake Erie, the annual Summer Solstice Sunset Paddle, and yoga 5 days a week (some classes even have childcare available!). Monthly offerings include the Feminist Parenting Discussion Group, Writing Workshop for Healing and Art, and Mamas Made of Stardust providing support to survivors of birth trauma. You can view She Collective's full list of offerings and register by visiting their website – knowingshe.com
Everyone at She Collective embraces the opportunity to discuss topics and ideas that have been labeled by society as taboo and to help answer the questions we have all faced as women, at one time or another. From yoga and paddleboarding, Mother's Milk Club and Period 101 for Preteens, to monthly gatherings with Soul Connect, She Collective is leading the way toward female empowerment, right here in our own backyard. The last year has been full of growth for She Collective and they are grateful to have been embraced by this Lakewood community in such a welcome and loving way. Make sure to take advantage of She Collective community programming both in the studio and on the lake this summer!
Samantha Walters
Samantha Walters, MPH, IBCLC, is a proud Cleveland native and Lakewood resident. She works outside the home as a lactation consultant and the owner of She Collective, and inside the home as the mother of two sweet little ones. Samantha is dedicated to racial and gender equity and committed to fighting for social justice everday.
Read More on Lakewood Living
Volume 14, Issue 11, Posted 10:43 PM, 06.05.2018