Best Asian Food Delivered!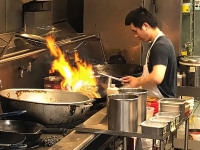 With a handful of Asian restaurants delivering in Lakewood and most using the same menu, or menu with slight variations you may not think there is a big difference, but we have found there is. China Garden in Marc's Plaza by Sinagra Park seems light years ahead of the rest. Don't believe me, give it a try. Great food, delivery is quick. 216.226.3434

Jim O'Bryan
Publisher, Lakewood Observer, Inc.
Read More on Foodwoodİ
Volume 14, Issue 12, Posted 11:16 PM, 06.05.2018