LHS Junior Rangers 2018 Summer Soccer Camp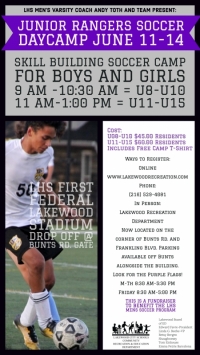 Join LHS Varsity Coach Andrew Toth and the Ranger team for their annual LHS Junior Rangers Summer Soccer Camp!
The camp will be held Mon-Thurs June 11th-14th at LHS First Federal Lakewood Stadium.
This popular soccer camp is focused on developing footskills and game tactics in a fun and encouraging environment! Players get lots of touches during skill development and game play throughout the camp.
This camp is open to boys and girls from 1st (U08) to 8th(U15) grades. A camp tshirt is included for those that register early!
U08-U10 is 9:00am-10:30am $45.00/residents, $55.00/nonresidents
U11-U15 is 11:00am-1:00pm $60.00/residents, $70.00/nonresidents
Players can be regsitered for this team fundraising event at the Lakewood Recreation Dept or on their website www.lakewoodrecreation.com
Rick Harvey
Lakewood Resident since 1992, proudly raising 3 kids in the Lakewood City School System
Read More on Sports
Volume 14, Issue 10, Posted 3:06 PM, 05.15.2018