Tom Bullock Fights for Families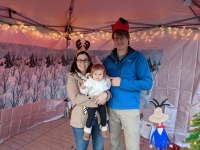 I've had the privilege of calling Lakewood my home for the past 10 years. I run a business here, my husband and I own a home here, and we are raising our family here. I'm proud to be represented by Tom Bullock, and proud to support him in his campaign to be the next state representative for Ohio's 13th district. Tom believes that strong families thrive in vibrant, dynamic, diverse cities. He has worked tirelessly to create a safe multimodal city. One that works not just for our current modes of transportation, but with an eye to the future as well. Thanks to Tom's efforts on City Council, it's not unusual to see families like my mine riding their bikes to Lakewood Park, or strolling to the Sweet Spot for an after-dinner treat.
Lakewood is moving in the right direction. As my neighbors and I emerge from our winter hibernation, I see signs all around us that Lakewood is a growing, vibrant community. Home values continue to rise, while our income tax rate hasn't changed since Reagan was in office. New schools, remodeled parks, street art, and innovative solution to calming traffic. Tom Bullock has served Lakewood in immeasurable ways. I know that he will work hard for us in Columbus, and that why I urge my neighbors to vote for Tom Bullock on May 8 for state representative for Ohio's 13th district.
Lindsey Grdina
Lindsey Grdina is the owner & Principle Attorney at Grdina Legal Services ltd. She and her husband Ed love living in Lakewood and raising their family here.
Read More on Letters To The Editor
Volume 14, Issue 8, Posted 3:27 PM, 04.17.2018