Martin J. Sweeney Hopes To Earn The Privilege Of Serving You In The State Senate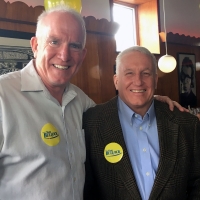 My name is Martin J. Sweeny and I am asking for the privilege of serving as your next State Senator.

Throughout my life, Lakewood has always been special to me. I competed in many basketball games as a teenager here, worked my first job at the Convenient Mart behind Harding, learned to play pool at Mahall's, socialized at the old Tam O'Shanter, and spent many 4th of July nights down at Lakewood Park watching the fireworks. More importantly, it is where I met my beautiful wife Kate at her family home on Narragansett Ave.

Having had the opportunity of serving our communities for over twenty years, as both a Cleveland City Councilman and a State Representative from the 14th House District, I uniquely understand the challenges facing large, urban cities like Lakewood. From the loss of critical funding for our local schools and cities, an Opioid Crisis ravaging our communities, and a near constant Republican-led assault on the basic rights for all Ohioans, I know the issues impacting you and your neighbors in Lakewood. I promise I will always work hard for you in Columbus to ensure we have strong communities, safe neighborhoods, and are protecting the rights of working families.

That is why I am running to represent you in the State Senate. I deliver results and my first priority is and always will be to advocate for Lakewood and its residents. Leaders like Mayor Summers and former Council President Mary Louise Madigan are supporting me because I will bring my leadership, experience, and proven record of getting things done to all of Lakewood and the 23rd Senate District.

Thank you for taking the time to learn about me, and if you have any questions, please do not hesitate to call me at the same number I've had for 30 years - (216) 252-0986. The election is Tuesday, May 8th, and I would like the opportunity to earn your vote. Keep the faith.
Martin Sweeney
Martin J. Sweeney is running to represent Lakewood for State Senate District 23. Early voting has begun and the Democratic primary election is Tuesday, May 8th.
Read More on Letters To The Editor
Volume 14, Issue 8, Posted 3:27 PM, 04.17.2018