Ranger Girls Open Playoffs with Historic Win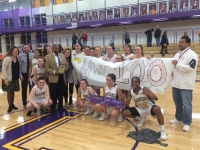 The LHS girls basketball team defeated Brecksville-Broadview Heights 55-20 on Saturday night to advance in the OHSAA state championship tournament. The victory was the 100th at LHS for head coach Mike Harper. The team commemorated the event by presenting a banner to Harper after the game. Athletic Director Sean Jackson was among those congratulating Harper on the milestone.
The Rangers dominated the game from the opening tip. Claire Hylton and Courtney Ribar set the tone right away, scoring the Rangers first nine points of the game. Christian Massey and Olivia Nagy took over in the latter portion of the period, with Massey scoring eight points and Nagy four points. Lakewood led 20-5 after the first period, and the Bees were unable to mount a serious threat after that.
The lead widened to 35-11 at halfltime, with Nagy adding seven more points in the period. Ribar scored five points in the period, including her second three point basket of the game. The domination continued in the third quarter, as Lakewood opened a 46-11 lead with 4:49 remaining in the third period. The 35 point lead triggered the new OHSAA "running clock" rule, which was put into effect beginning this postseason. Lakewood led 50-16 at the third quarter break, and eventually won 55-20. Nagy, playing her final home game at LHS, led the Rangers with 15 points; Ribar, another senior, had 13 points including a trio of three point baskets; Massey had 12 points; Hylton finished with eight.
The tournament road becomes much more difficult for the Rangers going forward. Lakewood (seeded #5 in the district) moves on to face Medina in a second round game on Thursday night at 7pm at Medina. Lakewood defeated Medina during last year's district championship run. However, this swarm of bees has much more sting than Brecksville... Medina is the #4 seed in the district with 13-9 regular season record.
Mike Deneen
Mike Deneen has extensive experience covering sports and community stories for the Lakewood Observer. Mike has been a Senior Industry Analyst for the Freedonia Group in Cleveland, Ohio, since 1998. He has appeared on CNBC's Closing Bell, NPR's MarketPlace and has been quoted multiple times in The Wall Street Journal. He has made multiple guest appearances on ESPN Cleveland radio. Mike also writes for Inside Northwestern, a website that covers Northwestern Wildcat Athletics. You can reach him on Twitter at @MikeDeneen1
Read More on Sports
Volume 14, Issue 5, Posted 3:46 PM, 02.18.2018