Rangers Top Westlake for Third Straight Win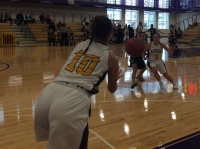 The LHS girls basketball team defeated Westlake 52-49 on Saturday afternoon at the Lakewood High School Gym. This was the team's third consecutive win, and raised their record to 7-6 on the season. Lakewood senior Olivia Nagy led all scorers with 19 points. Sophomore Abby Carrington led Westlake with 14 points.
Westlake was very effective behind the three point line, especially in the first half. The Ranger duo of Nagy and junior Christian Massey kept pace with the Demons early, as Lakewood held a 12-11 lead at the end of the first quarter. However, Lakewood was held to only seven points in the second quarter. The Demons, meanwhile, continued their hot shooting. Westlake carried a 28-19 lead into halftime, bolstered by six three point baskets.
Lakewood pecked away at the lead early in the second half. Senior Isabel Cintron scored five points in a one minute spurt early in the period. The Rangers were able to close the lead to 41-37 by the end of the third quarter. The game turned early in the fourth quarter, when Lakewood went on a 12-2 run to take a 49-43 lead with just over three minutes left in the game. The run included five points from Nagy and a big three pointer from senior Courtney Ribar. The teams exchanged free throws during the final few minutes, and Lakewood prevailed 52-49.
Massey, Ribar, and Cintron each finished with 8 points for the Rangers; junior Claire Hylton scored seven. The team, which swept both games against Westlake this year, is now 6-4 in Southwestern Conference play. They return to action Monday afternoon for a nonconference game at Rocky River. The MLK Day game is scheduled for 2pm. Lakewood returns home on Wednesday night to face conference rival Midview. Junior varsity is scheduled for 6pm, varsity tipoff at 7pm.
Mike Deneen
Mike Deneen has extensive experience covering sports and community stories for the Lakewood Observer. Mike has been a Senior Industry Analyst for the Freedonia Group in Cleveland, Ohio, since 1998. He has appeared on CNBC's Closing Bell, NPR's MarketPlace and has been quoted multiple times in The Wall Street Journal. He has made multiple guest appearances on ESPN Cleveland radio. Mike also writes for Inside Northwestern, a website that covers Northwestern Wildcat Athletics. You can reach him on Twitter at @MikeDeneen1
Read More on Sports
Volume 14, Issue 2, Posted 6:03 PM, 01.13.2018