Trinity Lutheran's Deconsecration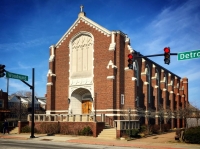 Trinity Lutheran Church is a congregation that was founded in 1912 in a rented chapel on Andrews Avenue and was to be in ministry with English speaking Lutherans residing in Lakewood. The name became Trinity Lutheran Church in 1921. The building to be deconsecrated was completed in 1922, the education unit in 1953, interior renovations to the sanctuary in 1966, and muraling throughout in 1999 by members under the leadership of member artists. Leaving a church building is an occasion filled with mixed emotions of varying degrees. There is grief and nostalgia about what has gone before, as well as hopefulness for the future.
A special service is scheduled for Sunday, January 14 at 10:00 am to deconsecrate the building that has served as Trinity's home for many, many years. Bishop Abraham Allende from the Northeastern Ohio Synod will be present to preach and preside. This service will offer thanks for the ministry in this place as well as rejoice for the ministry that will continue in our new space, remembering always that the church's mission continues and extends beyond any one physical space. This service will begin at the 16400 Detroit Ave location. We will gather in the sanctuary for the deconsecration and following that rite, all are invited to process, either by walking or driving, to our new worship space at 1375 W Clifton Blvd for the remainder of our service. Having returned to its roots in some ways, Trinity Lutheran Church will continue in its new rented space, the chapel of Lakewood Congregational Church.
Trinity is looking forward to gathering together to give thanks for the physical space that has served Trinity well over the years and to celebrate the ways in which Trinity will continue to serve its mission in the years to come. The community is invited and encouraged to join us for this special service at 10 am on January 14th.
Sara Cogsil is the Pastor of Trinity Lutheran Church and Executive Director of Trinity Lakewood Community Outreach.
Sara Cogsil
Pastor of Trinity Lutheran Church and Executive Director of Trinity Lakewood Community Outreach
Read More on Religion
Volume 14, Issue 1, Posted 4:06 PM, 01.09.2018