Lakewood, No It's Foodwood!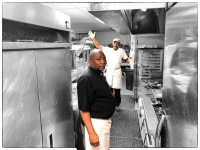 In the past couple years Lakewood has become a destination for good food, dining and entertainment experiences. This year we will be partnering with Foodwood© on a series of articles about Lakewood restaurants, bars and nightspots from an insider perspective. We have seen many lists of "the Best of" and noticed-- even been upset-- that some of the best places we know were not included. "How could they possibly ignore…?"

So with the help of professionals in the food and entertainment business we will take a look at menus, dining rooms, and kitchens and background to help you learn more about your favorite spots, and learn even more about how and why they happened, and who and what history molds not just who they are, but their signature dishes. This will be an interesting ride, we promise you.

Along the way we are inviting everyone to send in suggestions to their favorite places in and around Lakewood, and even write some reviews yourself. All will make it to our new Foodwood section on the website, but if we publish your review in the LO Print edition, we will pay for that meal, and you will get two Lakewood/Foodwood T-Shirts. How is that for a deal!

To submit a review, got to the Member Section of the Lakewood Observer, sign in click on submit story, and make sure you choose "Foodwood" in the selection for where your story should be.

Thank you to all and thank you to every owner, cook, server and busser.
Jim O'Bryan
Publisher, Lakewood Observer, Inc.
Read More on Foodwoodİ
Volume 14, Issue 1, Posted 4:06 PM, 01.09.2018