Eagles Beat Padua in Coach's Homecoming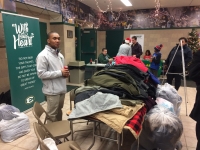 St. Edward defeated Padua Friday night in much awaited basketball matchup. Padua Head Coach Brian Ansberry, an alum and former assistant coach at St. Edward, faced his mentor Eric Flannery for the first time. Unfortunately for Ansberry (who still teaches math at St. Edward), the numbers were not good for the Bruins. The Eagles pulled away in the fourth quarter for an 89-55 win.
Ansberry's squad used high energy and good three point shooting to stay within striking distance during the first half. A pair of three pointers helped the Bruins take a 9-8 lead midway through the fist period. St. Edward closed the period on a 14-4 run to take a 22-13 lead at the end of the first quarter. Eagle senior PJ Flannery and sophomore Devontae Blanton each had seven points in the first quarter, and sophomore Montorie Foster had six.
St. Edward senior Elliott Tirbaso opened the second quarter with a three point basket, and Flannery added a two pointer within 30 seconds. The Eagles opened a 27-13 lead and seemed ready to pull away. However, the Bruins used a trio of three point baskets to keep the game within reach. Bruin guard Kevin Peterson closed the half with five unanswered points to make the score St. Edward 38-26.
The scoring pace increased for both teams in the third quarter. The Eagles continued to dominate in the paint, but the Bruins continued to scrap and fight. St. Edward led 61-47 at the end of the third quarter. The depth and skill of the Eagles wore down the upstart Bruins, who tired in the final period. The game broke open in the fourth quarter, as the Eagles went on a 15-4 run to take a 76-51 lead with under five minutes remaining. The St. Edward run included three three point baskets – one by Blanton and two by Flannery. Both coaches used reserves in the final minutes, and St. Edward won 89-55.
Foster lead the Eagles in scoring with 22 points. Blanton finished with 18; Flannery 15; Tirbaso 12; and Chambers 11. Peterson led the Bruins with 22 points, including a pair of three pointers. The Eagles remain undefeated on the young season, and return to action Saturday with a short road trip down Bunts/West 140th. They will face John Marshall, which is a pleasant surprise this year under new head coach Rich Austin. The Lawyers are 5-0, including a 3-0 record in Senate League play. However, they have yet to face an opponent with the Eagles' firepower. Junior Varsity is scheduled for 5:30 at the newly built John Marshall gym, followed by varsity at 7pm. Tickets will be available at the door for $5.
Mike Deneen
Mike Deneen has extensive experience covering sports and community stories for the Lakewood Observer. Mike has been a Senior Industry Analyst for the Freedonia Group in Cleveland, Ohio, since 1998. He has appeared on CNBC's Closing Bell, NPR's MarketPlace and has been quoted multiple times in The Wall Street Journal. He has made multiple guest appearances on ESPN Cleveland radio. Mike also writes for Inside Northwestern, a website that covers Northwestern Wildcat Athletics. You can reach him on Twitter at @MikeDeneen1
Read More on Sports
Volume 13, Issue 24, Posted 10:15 PM, 12.15.2017