Rangers Cruise Past Comets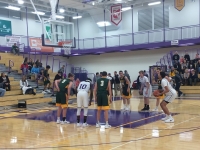 The Lakewood boys basketball team defeated Amherst Steele 77-35 Friday night at the new LHS gym. The victory lifts the Rangers record to 2-1 overall on the season, and 1-0 in Southwestern Conference play. The game was competitive in the early stages, as Lakewood led only 17-12 at the end of the first quarter. Lakewood pulled away in the second period, outscoring the Comets 25-5 to take a commanding 42-17 halftime lead. The game was never in doubt during the second half, as Amherst never got closer than 22 points.
Junior Zion Kolodynski-Darby led the Lakewood scoring effort with 15 points, 13 of them in the first half. Junior Raekwon Whitfield also had a very strong first half, scoring 11 of his 13 points before the break. Twelve different players scored during the game, as the bench was able to get significant playing time in the fourth quarter.
Lakewood returns to action on Tuesday night with another home conference matchup, this time against Berea-Midpark. Junior varsity action is scheduled to begin at 6pm, followed by the varsity game at 7:15.
Mike Deneen
Mike Deneen has extensive experience covering sports and community stories for the Lakewood Observer. Mike has been a Senior Industry Analyst for the Freedonia Group in Cleveland, Ohio, since 1998. He has appeared on CNBC's Closing Bell, NPR's MarketPlace and has been quoted multiple times in The Wall Street Journal. He has made multiple guest appearances on ESPN Cleveland radio. Mike also writes for Inside Northwestern, a website that covers Northwestern Wildcat Athletics. You can reach him on Twitter at @MikeDeneen1
Read More on Kid's Corner
Volume 13, Issue 24, Posted 10:28 PM, 12.08.2017