Climbing Prices For Lakewood Homes Show Housing Market And City's Future Are Very Strong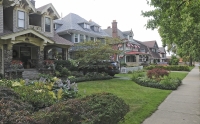 Lakewood residents can see positive developments taking place all around our community today, but nowhere more clearly than in the housing market. Lakewood is experiencing a growth period described by Crain's Cleveland Business as a "boom" with an "insane" real estate market, while the Plain Dealer wrote that "Lakewood in recent years seems to be surging ahead."
The core of our community is our neighborhoods, and Lakewood's 12,700 one- and two-family homes anchor our real estate market and tax base. The well-being of our housing stock contributes a great deal to the well-being of our city overall. Lakewood can't be strong without Lakewood housing being strong.
And how are our homes doing? Housing market numbers tell a story of remarkable transformation since the Great Recession, showing incredible growth in demand, rising prices, and increasing property values.
I sat down last week with experienced realtor and market guru Chris Bergin of Berkshire Hathaway, who provided data from the Northeast Ohio Multiple Listing Service that was up-to-date through Sept. 25. It showed that over the past five years, many housing indicators have strongly improved. The most important are these:
Lakewood home sales are brisk in 2017, outpacing Bay Village, Rocky River, Westlake, and Fairview Park in both number (381 sold, 64 pending) and sales volume ($67.6 million year to date).
Lakewood homes in good condition sell very quickly: 9 days or less (offer and acceptance), while days on market for all homes has more than halved from 2012 to 2017.
Inventory is historically low (100 homes or fewer) compared to pre-recession (350) and recession (250) averages.
Lakewood home prices are going up: in 2017, the average closing price is 100 percent of list price, up from 96 percent in 2012. During the same period, the average price of a Lakewood home skyrocketed 50 percent (from $127,433 in 2012 to $191,033 in 2017) and the median price jumped 53 percent (from $108,000 to $165,000). That's a remarkable growth rate that outstrips most hedge funds!
In plain English, what do these housing figures mean?
"People want to be in Lakewood," said Bergin. "And they're willing to pay for it."
That's a profound statement and a ringing endorsement. And since buying a home is a multi-year commitment, it shows people have confidence in the long-term trajectory of our city.
In my view, this also means Lakewood's housing market has fully recovered from the recession and that we've turned the corner on perception and housing tastes going back a generation.
Increasing property value will increase home equity for many, which can help property owners get financing to maintain and update their homes. Increased values may also result in higher-quality renovations rather than bare-minimum maintenance.
Property owners and entrepreneurs deserve credit for these gains, but let's also recognize the City of Lakewood's Housing Forward initiative for its role in sparking this growth. For more than five years, the City has comprehensively surveyed all one- and two-family homes to index quality and identify problem spots, which are then prioritized for code enforcement or direct action to rehab or rebuild. This helps to raise average home quality and eliminates the "worst of the worst" properties that would otherwise drain value and sap confidence from neighbors.
Lakewood Alive has also worked hard to educate homeowners on maintenance and improvement while also taking direct action to rehab properties and assist those in need. They deserve enormous credit.
There's a final point of significance: since, for many families, their home is their biggest investment, rising property values mean that for many Lakewood homeowners, their economic future is getting stronger. Welcome news, indeed, given the pressures of today's economy.
When I first ran for Council in 2007, people talked with concern about whether "Lakewood was changing" in a negative way. Today, the change we see in Lakewood is positive, and residents proudly tell friends from other communities about the exciting improvements in our city. That's a remarkable turnaround, and one that we should celebrate and continue.
Tom Bullock
Tom Bullock serves Lakewood residents as their at-Large representative on City Council. Share ideas or concerns with Tom at 216-395-7LWD (-7593) or tom.bullock@lakewoodoh.net.
Read More on Real Estate
Volume 13, Issue 19, Posted 5:13 PM, 10.03.2017