Free Picnic With Lakewood Democratic Club & Friends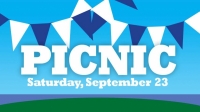 The Lakewood Democratic Club is hosting a a free community picnic on Saturday, September 23, thanks to the generosity of Representative Marcy Kaptur.

"It's incredibly thoughtful of Representative Kaptur to sponsor this picnic for Lakewood, on top of all the great work she does for our district," says Democratic Club President Grant MacKay. "I hope people will bring along friends and family, and enjoy some good food with neighbors."

The picnic will take place in the Kiwanis Pavilion in Lakewood Park. MacKay notes that "the Democratic Club always meets in Lakewood Park, but indoors. It seems like we ought to get outside and enjoy one of the best parks around, once in a while, so we decided to have a picnic."

This event is purely casual, open to the entire community. Anyone interested in the club can take the opportunity to chat about it with members. But, "The only agenda item is to enjoy the park, and help eat the food so we don't have to take it home" says MacKay.

Hot dogs, brats, hamburgers and black-bean burgers will be served at the picnic, along with juice, pop and water. Attendees are welcome to bring their favorite side dish or dessert to share.

The Lakewood Democratic Club's picnic takes place from noon to 2 p.m. on September 23, at Lakewood Park. There is no cost to attend, but online RSVPs are requested; please visit tinyurl.com/lkwdpicnic to let the club know you're coming.
Read More on Civic Groups
Volume 13, Issue 17, Posted 12:35 PM, 09.06.2017