Knits, Knots, Stripes And Dots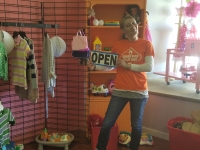 If you've driven by 17409 Detroit Avenue across from St. James Church recently, you may have noticed a new shop, Knits Knots Stripes & Dots and wondered what it's all about. Owner Beth Kiraly-Bratko spent many years working at Closets consignment shop, and finally decided it was time to follow her dream and open her own children's resale boutique. Beth says, "I love kids, I love clothes, and I love Lakewood." Beth is a Lakewood High graduate who lives in Lakewood with her husband, Brad Bratko. They have three children, so Beth is naturally up-to-date on current trends and styles in kid's clothes. Putting the shop together was a labor of love for Beth, her husband, mom and step-dad. The four worked in concert to renovate the space, making it the appealing store it is today.
Children outgrow things so fast that many of their items are barely used, so Knits Knots Stripes & Dots stocks a large collection of quality items. The store is not technically a consignment shop-- Beth buys outright, although she will accept larger, more expensive items such as furniture, gliders and even communion dresses for consignment.
Beth's stock includes clothing-- size newborn to junior, toys, games, puzzles, books, baby items, strollers, pack & plays, bumbos, activity seats, etc. The shop's policy requires clothing to be freshly laundered, toys to be clean and in working order, including batteries if they are necessary for operation. She accepts all brands, saying, "If it's cute, we'll take it!"
Clothing in stock will change with the seasons, just like merchandise in a department store. There is a regular Sale section as items cycle through. Beth will work in cooperation with local Lakewood donation centers at the end of each season, and will offer to donate for customers items that she is unable to take into her inventory.
Beth is committed to offering fine children's goods at a great value. She looks forward to serving the needs of Lakewood's children's resale shoppers, and being kind to the planet by recycling gently used items.
You can reach Beth at 216-767-5872. You can also find the store on Facebook: knitsknotsstripes&dots, on Instagram at knitsknots3, and coming soon on Twitter. All of the shop's guidelines and a photo gallery are available on the website: www.knitsknotsstripesdots.com.
Whether you want to buy or sell children's items, or just browse, Beth looks forward to welcoming you to Knits Knots Stripes & Dots!
Read More on Business News
Volume 13, Issue 12, Posted 2:48 PM, 06.20.2017