Centenarian Celebrates Turning 100 At Crestmont North Nursing Facility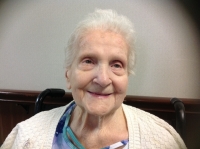 Betty Pedace is turning 100 years young on June 7th. Even though Betty is 99 she enjoys playing poker, bowling and other group activities like Happy Hour with live entertainers like Shane Phillips and Joel Scigliano, just to mention two. Betty enjoys watching her daughter Terri and other family members and staff dance to songs like Cake By The Ocean and Uptown Funk. "Sometimes it doesn't feel like a nursing home," says Betty regarding the fun she has at Crestmont.
Betty was born on June 7th, 1917 in Brockway, Pennsylvania. Both of her parents immigrated to the United States from Italy. When Betty's husband Albert took a position at Ford Motor Company in Brookpark they moved into a house on Wyandotte Avenue here in Lakewood.
Betty was a homemaker. She loved to play cards, travel and cook. She was known for preparing great Italian "feasts" for her family and friends to enjoy. She has shared with me that one of her favorite stores is Galluccis on the east side. For several years Betty was a volunteer in fundraising activities at St. Joseph Academy in Cleveland where her oldest daughter attended high school.
Betty's husband passed away in 1972. She continued to live on Wyandotte Avenue by herself until one month before her 98th birthday when she came to live at Crestmont.
Betty had four brothers and sisters and three of them lived into their 90's. She has two daughters, two grandchildren and one great grandchild.
Bonnie Greenberg works in the Activities Department at Crestmont North Nursing Facility.
bonnie greenberg
I work in the Activities Department at Crestmont North Nursing Facility.
Read More on Seniors
Volume 13, Issue 11, Posted 12:39 PM, 06.06.2017