Historical Society Spring Sale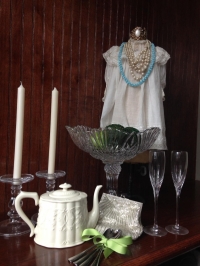 Lakewood Historical Society is excited to announce the Tabletops & Trifles Sale at the Nicholson House at 13335 Detroit Avenue, on Friday, April 7th, 1-7 p.m., and Saturday, April 8th, 10 a.m.- 3 p.m. A fine selection of everything exquisite will be artfully displayed for your shopping pleasure, including crystal, china, silver, jewelry, linen and many more decorative items.
Hosting Easter Dinner? Planning a wedding or shower? Shop this sale for the perfect party accents from serving to centerpieces we have everrything from shabby chic to Downton Abbey elegence. We have something for all budgets and tastes.
Parking is available at St. Ed's across the street. Tabletops and Trifles is a prelude to the annual Sale on the Grounds, which occurs on the first Saturday and Sunday in May.
All proceeds from this sale benefit the programs and properties of the Lakewood Historical Society. Come shop—you're sure to find aspecial piece—or even many!
Read More on Civic Groups
Volume 13, Issue 6, Posted 8:14 PM, 03.21.2017