LakewoodAlive Announces Entertainment For Lumberjack Bash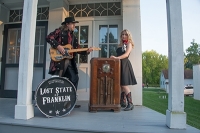 Live Music by Lost State of Franklin Headlines Full Slate of Lumberjack Fun
Despite their reputation for undertaking grueling and dangerous work, lumberjacks still know how to have fun. Need proof? Simply attend Loving Lakewood: Lumberjack Bash.
Presented by Geiger's, the Lumberjack Bash serves as a fundraiser for LakewoodAlive. All lumberjacks and jills are cordially invited to don their best plaid and attend the Bash on Saturday, Feb. 25, from 7:30 to 11 p.m. at The Bottlehouse Brewery Lakewood (to secure tickets, visit LakewoodAlive.org).
LakewoodAlive announces a full slate of entertainment options for the Lumberjack Bash to ensure guests enjoy a log-splitting good time. Cleveland-based band Lost State of Franklin will entice the plaid-clad audience to dance their axes off by performing a brand of music blending elements of folk, bluegrass and country to create a sound that's pure Americana.
Guests at the Lumberjack Bash can also sink their saws into the following entertainment options:
A live wood-carving demonstration
The Epic Beard Contest presented by Men's Cuts
A "Head in the Hole" lumberjack selfie station
Hammerschlagen – A unique game involving a hammer, nails and a stump
A speed-building Lincoln Log contest
For more information regarding the Lumberjack Bash, please visit LakewoodAlive.org.
Loving Lakewood: Lumberjack Bash is generously supported by the following sponsors: Geiger's (Title Sponsor) Cleveland Property Management Group and First Federal Lakewood (Platinum Sponsors), Cleveland Home Title and M.V.P. Valet Parking (Gold Sponsors), Men's Cuts (Presenting Sponsor for the Epic Beard Contest), Clark Wealth Management, Cleveland Lumber Company, Erie Design, King's Kitchen, Lanter Legal, Lion and Blue, Moore Yourkvitch & Dibo, Plantation Home, Relief Properties, Ride + Workout and Scalish Construction (Silver Sponsors).
Matt Bixenstine
I am the Marketing & Development Manager for LakewoodAlive. I enjoy all things Lakewood, especially walking my basset hound through Madison Park.
Read More on Foodwoodİ
Volume 13, Issue 3, Posted 4:24 PM, 02.07.2017