Hen Keeping Permit Applications Now Available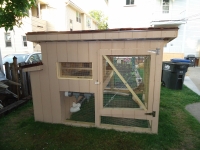 Greeting from the Hens in Lakewood Committee! Lakewood City Council passed an ordinance in May which allows for pilot hen keepers to re-new their permits and an additional 13 households to apply to keep hens in 2016.
The requirements for new hen hopefuls is consistent with the pilot. Permitted hen owners will be allowed to keep up to 6 hens (no males). Coops must be sturdy and predator-proof, can be no more than 80 square feet and no more than 6 feet tall. All prospective hen keepers need to prove they have taken a responsible hen keeping class. Coops and runs must be located 3 feet from rear and side yard property lines and at least 20 feet from the owner's home. All permit holders are subject to a city records check to ensure that the applicant is compliant with all applicable codes.
Applications for permits are available from City Hall as of July 15th. Completed applications will be accepted on a first come first served basis starting August 1st. If more than 13 complete application are submitted, the City will begin a waiting list.
The City has launched a Backyard Hens web page, http://www.onelakewood.com/backyard-hens/.
Information about responsible hen keeping, approved hen course providers, photos of coops, and more resources can be found on this page. Interested in speaking with current hen owners? The Hens in Lakewood Facebook page (https://www.facebook.com/LakewoodOhioHens/) is a great place to ask questions and find out about classes, events, and current information about Lakewood hen keeping.
Read More on Civic Groups
Volume 12, Issue 15, Posted 4:38 PM, 07.19.2016