North Coast Health: Providing More than Medical Care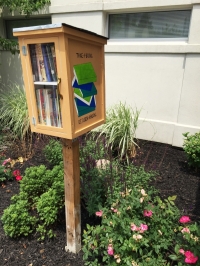 North Coast Health, a charitable medical clinic on Detroit Avenue in Lakewood is engaging the community in a new way this summer with the addition of a Little Free Library located in front of the building. The Little Free Library began as a grassroots movement in 2009 and is now a global sensation that has rapidly expanded into all fifty states and seventy countries.
Carolyn McGreal, a 4-year volunteer at the North Coast Health, proposed the idea after having an insightful conversation with one of the patient's granddaughters. "Normally we have crayons for the children while they are waiting, but that day we had run out so I asked the little girl if she was reading anything this summer, and she looked at me like I was crazy!" she said. Carolyn share's, "My next thought was- this is an excellent place for a Little Free Library."
While Carolyn spearheaded the project, the overwhelming support from the staff members made this a feasible, enjoyable task. Using scrap wood, supplies around the house and donated books- the house of stories was constructed with $20 and volunteer help.
Despite the low cost, the impact on the community has been immediate and tremendously positive. Many neighbors and patients have stopped in the clinic to ask, "Can I really take a book?" and the answer is, "Yes, really!" Others are equally excited to donate books that they loved reading.
While this curbside library is small in size, it has mighty aspirations. The Little Free Library allows patients and neighbors to take a book, share a book, and give a book back at their own convenience- for free. This offers an easy way to promote literacy, learning, and to build a sense of community as we share skills, creativity and wisdom across generations.
Please stop by and join the movement to promote the love of reading in our community.
If you would like to donate books to North Coast Health, please contact Ellen Ospelt at eospelt@northcoasthealth.org or 216.228.7878 ext. 107.
About North Coast Health
North Coast Health is a faith-based charitable clinic that provides medical care for the medically underserved- those with low, or no income. Every day, people come to North Coast Health because they have no other option for affordable care. As a Patient Centered Medical Home, Level 3, as designated by the National Committee for Quality Assurance, we are able to provide individualized, comprehensive and coordinated care in a professional clinical setting. Accepting new patients – Call for appointment 216.228.7878 www.northcoasthealth.org
Like us on Facebook, "North Coast Health" and Follow us on Twitter @ncoasthealth.
Ellen Ospelt
Erin Buckley, AmeriCorps VISTA Summer Associate, North Coast Health
Read More on Lakewood Health Care
Volume 12, Issue 14, Posted 4:11 PM, 07.06.2016