Bridge The Gap-My Harvest For Hunger Campaign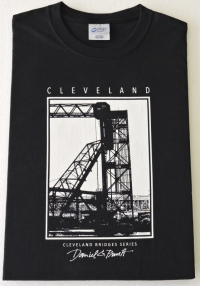 I recently launched a new campaign at my Lakewood Screw Factory Art Studio in support of Cleveland's Food Bank Harvest for Hunger. My campaign began at the studio during our recent Open Studio on April 8th. I call it "Bridge the Gap."
Hunger is an incredible problem in our country and I believe doing something about it in even a small way is important. I am always torn when I come to a stop entering or exiting the highway and seeing a homeless person begging at the side of the road. It is a stark reminder of the reality of this issue for me and I believe a symbol of where we are in this country in regards to hunger.
We have lived in Lakewood and owned our home for the past 26 years. My wife and I raised our two daughters here and have walked our Vizsla on Lakewood's streets and through Lakewood's Park.
During the last ten years I have seen some startling examples of the plight of the poor. Living on the west side I believe we have been insulated from the realities inner city families must cope with. But that has changed; today local churches in Westside communities are serving more people in need with food kitchens. I've seen signs identifying free meals at local churches. Our church has become much more active in collecting and distributing food, our Religious Education children's classes make up toilet articles for adults and during the holidays collect and distribute toys and games to children in need in Cleveland. We have opened our church as a temporary shelter to area women and their children in a state of transition. Our high school Sunday class holds an all night sleep over in cardboard shelters they construct during a winter evening to gain a sense of what those without a home must experience.
So how is this of importance to you? Are you hungry? Probably not, but read on.
I took a look at the Cleveland Food Bank's 2015 Annual Report and this is what I read.
"One in four children and one in six people in Greater Cleveland still live in a food insecure household. That means they do not know where their next meal is coming from. Many of these households have at least one member who is working –sometimes more than one job. They are making incredibly difficult choices on a regular bases –whether to buy food or pay for the rent to keep their utilities on. They are the working poor who struggle each day to provide necessities for their families."
The need is great but with your support we can make a difference!
MAKE A DONATION MAKE A DIFFERENCE.
My Campaign "Bridge the Gap" ties into what I do as an artist. The image with this article is my artistic vision of one of the photographs I took two summers ago when I traveled on a friend's boat on the Cuyahoga River. I took over 300 images that hot summer afternoon of the many and varied bridges as seen from the perspective of the river. My artist's procedure is to alter the photographic image in Photoshop and screen print it with fine powder glass frits onto a glass substrate. I use a traditional inking method to create my Signature T-Shirts.
The Artist's Signature T-Shirt is one of those images that is also available printed and fused in the kiln on glass available at my website or at one of a dozen outdoor Art Festivals you will find me at this summer including the Lakewood Art Festival the first Saturday in August the 6th.
With your $25.00 donation to my "Bridge the Gap" campaign you will receive a FREE Artist's Signature T-Shirt of a Cleveland Bridge with the Terminal Tower, Key Bank and Tower City shown behind it. The shirt is available in S, M, L, and XL.
Up to 70% of your donation will support my Bridge the Gap Hunger Campaign. Connect with my Go Fund Me Campaign at: gofundme/BridgetheGap2016
Visit me at one of my 2016 Art Festivals listed on my site. Any donation of $5.00 or more will advance this cause and is gratefully received.
MY GOAL FOR THIS MONTH IS $6OO.OO
Daniel Pruitt
I am a glass fusing artist at the Lakewood Screw Factory. I teach workshops, classes and do a dozen outdoor art festivals each year. 2016 will be 4th year in the Lakewood Festival . I am doing a Harvest for Hunger Campaign and am having a Gallery show in July at the Malvina J. Freedson Gallery in Winton Place. I have been a Lakewood resident for 26 years and have raised my family, 2 daughters and our Vizsla dog here. I taught in the North Olmsted HS Art department for many years and opened my studios and Gallery at the Screw Factory in 2010. I have written several articles for the Observer and also ran ads in 2014.
Read More on Lakewood Living
Volume 12, Issue 12, Posted 5:02 PM, 06.07.2016