Coffee With The Subconscious...Encouraging Spirits...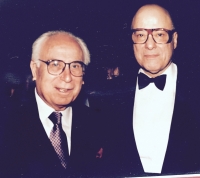 Tears filled my eyes as I listened to Patty describe her restored vision from Wet Macular Degeneration. The reason for my crying became evident when I returned home from the local television station and saw the picture of my father with his close friend.
My father died 20 years ago, but his Greek accent still ruminates between my ears..."What's the matter with you? Don't you see that he's a good boy trying to do something?"
Memories filled my head of a tired young mother with four kids exasperated with her husband's long hours. He had this thirst for scientific understanding that was never ending. My Graphology mentor helped me appreciate his relentless pursuit when I showed her his handwriting. My husband's handwriting depicted Nuancee: His is a pure character... a vibrant sensitive mind... full of penetrating clarity that is concerned about the world, not about himself. She also told me that he was lucky to have me as a wife as she examined my handwriting. I'm forever grateful for this objective perspective. It helped me navigate the external wrenches that penetrated our pioneering life.
My father and Judge Manos were patriots from the most rugged southern part of Greece... Mani. It's the area that the Turks were unable to penetrate during their 400 year Occupation. My husband's family was from this area too. Greeks emigrating to the United States tend to connect with those from the same region of their homeland... a subconsious affinity.
Choosing Ophthalmology was a spirited decision for my husband. He and my father settled on it together. After my father's untimely death from trying to ease his affliction from Parkinson's, his close friend entered our lives. It was fortuitious that he lived down the street from me in Lakewood. It was during our weekly breakfast get togethers that he would express his frustration about my husband's seeming shift of focus from Ophthalmology... "George needs to find a cure for Macular Degeneration... what's he doing with this Epigenetic medicine?"
Thirteen years ago my husband noticed a sign along the road. I undrstood his need to explore during our return to Hawaii for our twenty-fifth wedding anniversary. His trailblazing mind sought answers to treat debilitating disease. I lament that he was unable to treat my father's Parkinson's & The Judge's Macular Degeneration before they died... But I know that they're satisfied seeing others benefit!

Betty Rozakis
Graphologist /author resident of Lakewood working on their Column for the Lakewood Observer. Betty Rozakis earned her Advanced Diploma from the British Academy of Graphology and her BA in History from Baldwin-Wallace College. Author of Coffee with the Subconscious, Betty enjoys walking her Golden Doodle, Ella along Clifton Beach. www.bettyrozakis.com
Read More on Lakewood Living
Volume 12, Issue 3, Posted 2:29 PM, 02.02.2016