Coffee With The Subconscious... Peaceful Resolve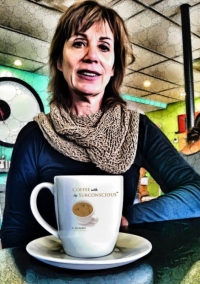 I met Esther by chance outside Blackbird Bakery a few years ago. It's almost haunting that this graceful lady from Texas returns to Lakewood and wants to spend time with me. Esther mentioned that it's the honesty that lures her. An indulgence, despite my efforts, I was unable to have with another...
The flowing grace of her hair camouflages an inner struggle. I asked to see the journal from her bag. Her handwriting revealed inconsistent behaviors, but less blockage than last year. More sponaneity is a good thing, but what was the source of Esther's differing mindset? It wasn't evident. My gaze sought an answer.
An awareness filled the air as Esther stroked Ella's neck beneath the picnic table. I felt my cue to share...
My mother passed away two years ago right before Christmas. I wasn't the chosen caretaker during my mother's last months. I'm grateful that the subconscious needs of others left the two of us alone the final six hours of her life. I paid attention to my inner feelings to overcome the flux of my heart. If I had conceded to an external voice to dictate my actions, my independent stoic mother would have died alone.
I wasn't always aware of this. I found this clarity analyzing the evolution of our handwriting. My mother's handwriting hardly changed over the years. It remained constant…emotionally dispassionate. Conversely, my handwriting transformed dramatically since my early twenties. Why such a difference?
Life's all about the subconscious connection we have with our selves and in our relationships. Graphology provides the roadmap for subconscious resolve...peace.
During my early years my handwriting was off balanced and confused. It depicted a diligent conforming mindset… actively seeking an inexplicable something. I struggled to understand why I couldn't relate. My character was stuck in the wrong sanctuary. I needed to give this generous woman her space. Our internal motivations differed. Mine was a more passionate nature to her inexpressive dignity.
I spent the early morning hours at her side, gently caressing her face...she was unable to speak. The hospice nurse confirmed that she saw a change from the way she had gotten to know my mother over the last month of her life. My mother's face softened... a peaceful resolve filled my soul.
I look forward to my next encounter with Esther before the New Year.

Betty Rozakis
Graphologist /author resident of Lakewood working on their Column for the Lakewood Observer. Betty Rozakis earned her Advanced Diploma from the British Academy of Graphology and her BA in History from Baldwin-Wallace College. Author of Coffee with the Subconscious, Betty enjoys walking her Golden Doodle, Ella along Clifton Beach. www.bettyrozakis.com
Read More on Lakewood Living
Volume 11, Issue 25, Posted 2:24 PM, 12.08.2015