Coffee With The Subconscious... Sipping Sunshine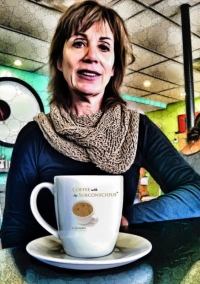 Sunday was a glorious day in Lakewood -- a gift before the dreaded cold to come.
I hesitated to walk Ella to Blackbird Bakery because of the Dog Warden. Ella needs company when I enter the bakery otherwise she barks! Something told me that I'd connect with someone. I felt it in my bones that it would somehow work out...
When we arrived to take our place at the picnic tables, a comforting face sensed our dilemma and volunteered to sit with Ella.
Chrissy had also ventured out to Blackbird that brilliant morning. It turned out that she knew my eldest son from grade school and also shared my BW alma mater. But there was something else. There was a sadness that lingered. I sensed something unresolved that was stirring from her subconscious.
When Chrissy learned about my work in Graphology, she ran to her car to share her handwritten journal with me. She had blank sheets of paper, so I asked her to write a few additional notes along with her signature. I also asked her to draw a tree. She drew several...and stopped when she felt fulfilled.
I saw in her handwriting and tree drawings a clear independent mind that had trouble valuing herself. This darling young woman felt 'square' and unattractive. Chrissy feels comfortable on her own, but the thought of putting herself out there causes her to want to protect herself and run for cover.
Gifted and creative... Why did Chrissy feel like she needed an impenetrable shield when engaging with the outside world?
I saw that a shameful experience haunted her...
Tears filled her eyes.
She felt self-conscious about her face because of a childhood ailment.
This inhibited her from pursuing her dream...
To be in front of the camera helping students.
Even when she graphically told me, I assured her that I saw no physical remnant of her inner torment.
Chrissy smiled...relieved.
She became animated as she shared her experiences with inner city students who videotaped her. 'Yo Miss Rappa Lady' was their response to her charismatic nurturing style.
A modern day female Mr. Rogers.
We parted with a hug as Chrissy set off to Lakewood Library to find my book, "Coffee with the Subconscious."
This sip of sunshine brought inspiration to both our hearts.
Betty Rozakis is a graphologist /author and resident of Lakewood. She earned her Advanced Diploma from the British Academy of Graphology and her BA in History from Baldwin-Wallace College.

Betty Rozakis
Graphologist /author and resident of Lakewood working on her column for the Lakewood Observer. Betty Rozakis earned her Advanced Diploma from the British Academy of Graphology and her BA in History from Baldwin-Wallace College. Author of Coffee with the Subconscious, Betty enjoys walking her Golden Doodle, Ella along Clifton Beach. www.bettyrozakis.com
Read More on Lakewood Living
Volume 11, Issue 24, Posted 3:38 PM, 11.24.2015