Weldon Carpenter, Unsung Hero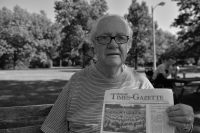 (from "Faces of Lakewood, OH" on Facebook)

Some of our older "faces" in Lakewood are secret heroes. Quiet, meek and humble, they carry within them stories that elicit awe, wonder and gratitude.
I met Weldon Carpenter while he was quietly sitting on a bench in Lakewood Park listening to the LHS Marching Band. He immediately reminded me of the Simon & Garfunkel song "Old Friends" (...can you imagine us years from today/Sharing a park bench quietly?/How terribly strange to be seventy/Old friends, memory brushes the same years...) https://youtu.be/Ul2hSba5pOs

Weldon recently turned 75 and proudly told me that he was the historian for 50 years of the All Ohio State Fair Band and this was his 65th year at the Fair. Probably his 2 best memories were: being the Drum major as a senior for the OSU Marching band and being a chef for Judy Garland!
Here's an article about him written by Gary Rice who is his neighbor on Northland Ave. http://lakewoodobserver.com/forum/viewtopic.php…
Alexander Belisle
Just moved here from NYC where I was a member of their press corps (WSJournal, NYPost, BXTimes . . . ), shot for NYFW and most recently NIKE Basketball.Before that I was a teacher for 36 years and an NEH Fellow. I bought a beautiful, large Victorian home on Grace Ave. My wife was raised in Lakewood and is thrilled to be back.
Read More on Seniors
Volume 11, Issue 19, Posted 5:42 PM, 09.15.2015