Johnny Appleseed Awaiting Repair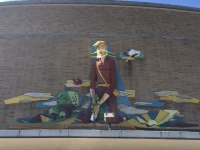 Did Johnny get a nose job? No, but he will be getting a facelift next summer.
Last July, the Lakewood Rangers Education Foundation launched the "Save the Schreckengosts Campaign" to restore and preserve two Schreckengost sculptures at Lakewood High School: the Early Settler, affectionately known as Johnny Appleseed, and "The Great Lakes Mural." A year into the campaign, we are a third of the way to our goal of raising the $120,000 necessary to give these two masterpieces the attention they deserve.
Lakewood Board of Education commissioned Viktor Schreckengost in 1954 to create the "Early Settler" to adorn the new Civic Auditorium. Johnny, who is staying on the building throughout the construction, will get a full makeover, including a paint job, next summer.
The "Great Lakes Mural," a bas relief wooden mural, was installed in the Lakewood High School upperclassman lounge known as the "L" Room in 1953, and was purchased with money raised by LHS students. The mural depicts the Great Lakes, the State of Ohio, and the industries that support our state, including shipping, agriculture, and manufacturing. In September 2014, it was removed and put into climate controlled storage. ICA – Art Conservation, the nation's first nonprofit regional art conservation center, will restore the mural and reinstall it in the new section of the high school in the summer of 2017. It will now be visible from Franklin Boulevard.
Show your pride for Lakewood's Schreckengost treasures. Let's make sure our community can enjoy them for many more years to come. Make a tax-deductible donation to the Lakewood Rangers Education Foundation's "Save the Schreckengosts Campaign" by visiting our website at www.lakewoodrangers.com or mailing a check to 14100 Franklin Blvd., Lakewood, OH 44107.
So what's the deal with the nose straps? They are protecting Johnny during the demolition of the 1918 building.
Viktor Schreckengost, father of industrial design in America, was truly a national treasure. He started the nation's first industrial design program at the Cleveland School of Art, now Cleveland Institute of Art.
Since 1984, the Lakewood Rangers Education Foundation has distributed more than $3 million in funding for classroom grants, student scholarships, and school initiatives. The Foundation is guided by its mission to provide resources to enrich the educational experiences of the Lakewood City Schools' 5,500+ students. To learn more about the Lakewood Rangers Education Foundation, visit www.lakewoodrangers.org or email foundation@lakewoodcityschools.org.
Read More on Arts
Volume 11, Issue 15, Posted 4:30 PM, 07.21.2015