Lakewood Cyclists Ride In The National Bike Challenge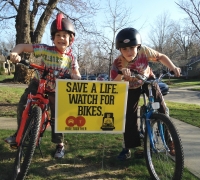 On May 1st bicyclists nationwide will roll out and log miles in the National Bike Challenge, a friendly event that encourages people to get on their bikes and ride. Last year nearly 50,000 cyclists rode over 23 million miles during the challenge period which ran from May 1st to September 30th. People for Bikes, a bicycling advocacy group, sponsors the challenge and hosts a website that lets participants log rides, chart progress, and view the rankings of individuals (like Bob Bellamy, Lakewood's top rider in 2014) or teams such as Mind Brain Social Club which was ranked #1 in the nation and based right here in Cleveland. The award winning site is compatible with a host of phone apps which help make tracking rides and mileage a snap and can provide a wealth of data regarding fitness (calories burned) or the environment (CO2 emissions reduced) or money saved by not driving a car.
Signing up for the challenge is free and easy and only takes five minutes. This can be done directly at Nationalbikechallenge.org or by following a link at BikeCleveland.org where you can read about a local event called the Rust Belt Battle of the Bikes where the greater Cleveland area rides against Pittsburgh for the "Rust Cup Trophy"! The point system employed by the National Bike Challenge rewards the daily trip to the corner store or loop around the block as much as it rewards the weekend roadie warrior. Twenty points are awarded for each day a rider logs at least one mile. Also, one point is awarded for each mile ridden. For instance, riding one mile every day for a week garners 147 points, whereas riding 20 miles each day on a Saturday and Sunday yields only 80 points. Riders can achieve merit badges based on points accrued (bronze: 100 points, silver: 250 points, etc.) and are eligible for monthly prize drawings.
Last year Lakewood finished the challenge ranked 7th in the nation for communities our size (population 50,000 to 200,000) which was remarkable considering there were only 149 Lakewood riders signed up for the challenge! And we were second only to Bay Village in all of Northeast Ohio (apologies to Green, Oh and Sharon Center, Oh). Lakewood is on the road to becoming Ohio's bicycling capitol. You may have seen the signs posted up and down Madison and Detroit stating we've been designated a bicycle friendly community (bronze level award) by the League of American Cyclists. Along with existing sharrows, bike lanes, parking corrals, traffic calming and motorists accustomed to driving alongside cyclists, Lakewood is making even more improvements. The "Madison on the Move" projects mean we will have bike lanes along Madison Avenue from 117th Street all the way to Riverside Drive. Not least, you'll find that anywhere you go on a bike you are guaranteed free rock-star parking and zero risk of being towed. Add two great bike shops (Spin on Madison and Beat on Detroit) and a myriad of cycling events that can be found at BikeCleveland.org and you have the makings for an epic summer of riding!
Three safety caveats: 1. Wear a helmet. 2. Be visible. 3. Observe the rules of the road.
So, whether you ride the road or the trails, for sport or to commute to work, for errands around town or the simple joy of it, I encourage you to ride. And if you do ride, consider the National Bike Challenge. Roll out, Lakewood! See you on the streets!
Rob Holland
Lakewood resident for 20 odd years. Husband of Lakewood teacher Jessie Holland. Father of Lakewood students Jamie and Cal. Avid bike commuter.
Read More on Lakewood Living
Volume 11, Issue 8, Posted 6:10 PM, 04.14.2015