Girl Scout Troop 70505 Throws A Cookie Social For Residents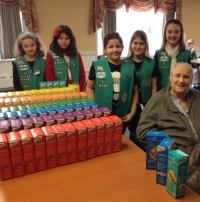 Girl Scout Troop 70505 brought their love of volunteering and drive to sell cookies to residents at O'Neill Healthcare Lakewood to have a cookie social. Residents sampled a variety of girl scout cookies while staff made some delicious purchases. Lakewood's Troop 70505 consists of 9 eager young ladies in 4th grade. The girls showed off their patches proudly sharing their favorite part of being a girl scout are the fun activities, camping, volunteering and making new friends. As of March 20th, the girls were halfway to their cookie goal of selling 2,500 boxes.
This year marks the 98th year of Girl Scouts selling cookies and learning the basic skills and acumen they need to be leaders in business and sales, manage their personal and family finances, and gain self-sufficiency and confidence handling money. Every year, nearly 1.5 million Girl Scouts sell about 200 million boxes of cookies—close to $800 million worth. The young cookie entrepreneurs reinvest that money into troop activities and projects that make their communities and our world a better place. The program allows girls to gain valuable experience and understanding of how they can transform their world, all while having fun and engaging in the excitement of the cookie season.
One hundred percent of the net revenue raised through Girl Scout Cookie sales stays with local councils, and girls decide how their troop cookie money is spent. Each scout learns the essential "5 Skills" through the cookie program: goal setting, decision making, money management, people skills, and business ethics.
Sarah Rohland O'Neill Healthcare Lakewood
reporting from O'Neill Healthcare Lakewood
Read More on Seniors
Volume 11, Issue 8, Posted 6:10 PM, 04.14.2015