Dance Lakewood- Good For The Body And Soul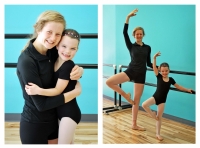 My journey into the dance world started about four years ago at one of the many Lakewood festivals. My daughter, Ava, who was 3 years old at the time, was interested in taking a ballet class. I happened upon a booth for Silhouette Dance, now named Dance Lakewood. At this booth, I met four women who would nurture my daughter's interest in dance. Up until that point, my only knowledge about dance classes was what I had seen on the show, "Dance Moms." Despite that, we decided to jump right in and see what happened.
To my joyous surprise, Ava has been taught discipline, but with a firm and loving approach. The expectations for the students are high and are met with much positive reinforcement from the teachers. The students are greeted with a smile and leave the studio with a hug and a smile. My daughter started taking one ballet class four years ago and now takes three classes a week which include ballet, jazz/tap combo, and acrobatics. Ava has blossomed from being a bit shy to having confidence in herself and her abilities to dance. I credit the teachers for their kind and positive support. The teachers have recognized when she needed a challenge and helped create opportunities for her to meet that challenge.
As for me, a newbie to the dance world, I have been welcomed into a new community of dance moms and dads that I see each week. Many of us are learning together what it means to be a dance parent. The teachers have invited the parents to be on a parent committee to find ways to better serve the students. I find this to be very valuable because it lets the parents know that we are important and part of the studio. Creating a community among the families also includes a new program called the Big/little program which matches an older student with a younger student. Ava is excited about having the opportunity to have a "big sister" to give her extra support, advice, and friendship at the studio.
We feel very fortunate that we stopped and asked for information at that booth four years ago. Ava and I are very happy to call Dance Lakewood our family. Many thanks to Miss Donna, Miss Teresa, Miss Stephanie, Miss Mary, and Miss Audrey for all of your support and hard work.
Pamela Elliot
I am a stay-at-home mom who loves Lakewood and all it has to offer.
Read More on Lakewood Living
Volume 11, Issue 4, Posted 4:49 PM, 02.17.2015