Coffee With The Subconscious... 'Chance' Encounter...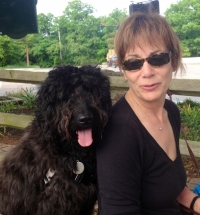 Ella, my Golden Doodle, and I love our outings to Blackbird Baking Company. I'm not much for routines, but this picnic ritual has sprung some soulful moments.
It was a cool summer morning when I met Esther. There was something about her graceful movement as she glided into the bike stand. She wore a Chanel type hat with jeans...
I couldn't help but exclaim: 'Love your hat!' After a few greetings, Esther joined us at our table.
Esther was a female drummer who knew Manaus in the Amazon. A place I had never heard of until she mentioned that she lived for a while in Brazil. My son recently returned from the World Cup. She was curious to find out where he saw the soccer games. His text confirmed Manaus.
She learned that I was a graphologist/writer. Esther commented that she had boxes of handwritten letters and cards stationed at her mother's home. We exchanged contact information. I knew I would see her again…
After about a week I received Esther's text. She was still in town and wanted to purchase a copy of my book. I brought along my sketchbook to our coffee rendezvous. Esther welcomed the opportunity to write and do a tree drawing.
A person's handwriting is a conscious rendition of their subconscious need.
What happened to Esther's spontaneous grace?! Over the years I've seen soooo many sensitive souls unaware of their innate Beauty. They mistakenly believe that they have to do something or act a certain way in order to be accepted and loved by those they care about.
I sensed her need to progress at her own pace. A smile of comfort filled her face as she placed my book, "Coffee with the Subconscious," in her bag. We hugged in anticipation of our next encounter.
The leaves began to change color when I next heard from Esther. Esther offered a Blackbird treat to Ella when we arrived. We discussed elements of my book. She shared that she had learned how to examine her internal thoughts and feelings because of the way it was written.
Her bag contained a couple of handwritten letters she wanted me to analyze. They were from her mother.
Esther was focused on wanting to help her mother. Unlike Esther's handwriting, her mother was at ease in how she conducted her life. There was no discrepancy between how she felt and acted. Esther mentioned that her mother wanted to spend time with her, something she had difficulty understanding until now. A lightness of heart filled Esther's being… Sunshine. Esther noticed a couple of tears that I couldn't contain. I commented that my mother passed away before last Christmas. Ours had been a complicated relationship that I struggled to resolve. A text followed later that evening…
'Thanks for your support and wisdom… spending a nice evening with my mom… pretty sweet. Esther'
Life's about relationships… helping resolve the unresolved.
Take care, B.

Betty Rozakis
Graphologist /author resident of Lakewood working on their Column for the Lakewood Observer. Betty Rozakis earned her Advanced Diploma from the British Academy of Graphology and her BA in History from Baldwin-Wallace College. Author of Coffee with the Subconscious, Betty enjoys walking her Golden Doodle, Ella along Clifton Beach. www.bettyrozakis.com
Read More on Lakewood Living
Volume 10, Issue 24, Posted 11:45 AM, 11.25.2014