Makeover Your Medicine Cabinet With Natural Remedies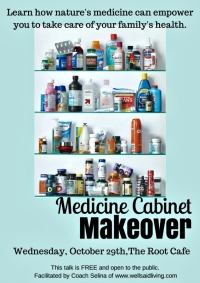 It's getting to be that time of the year again where the sniffles, colds, and fevers are in high gear. Modern medicine may treat your symptoms, but most are synthetically made, carry many side effects, come with an expiration date, and can become quite costly. Interested in learning how you can find natural, efficient, and simple ways to remedy your seasonal sickness this year before the Polar Vortex strikes again?
Learn how by attending the "Medicine Cabinet Makeover" class Wednesday, October 29th, beginning at 7 p.m., at the Root Café. Samples of homemade remedies and essential oils will be offered to those in attendance, along with special offers to help pinpoint which natural remedy will aid you the best.
This talk is the third talk of a 7-part wellness series, called "Rooted in Wellness" offered by Coach Selina M. Almodovar of Well Said Living and the Root Café. All talks are free and open to the public.

Selina Almodovar
Coach Selina M. Almodovar is a Cleveland native, Lakewood resident, and a Certified Health & Wellness Coach and Founder of Well Said Living: A wellness coaching service for women who are determined to live well and be happy. She offers free community events as well as personal one-on-one and online coaching for women.
Read More on Wellness Watch
Volume 10, Issue 22, Posted 5:40 PM, 10.28.2014