1967 Rangers Ponder What Might Have Been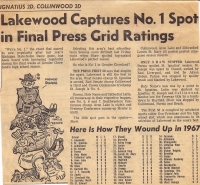 The number one ranked 1967 Lakewood Ranger football team was among the best Ranger teams ever. Coach Robert Duncan's purple and gold ran up substantial winning margins on their way to an impressive nine win season. Yet, because of the absence of an Ohio high school football playoff system, we will never know how they would have stacked up against statewide playoff competition.
Because of ongoing controversy, in 1972 the Ohio High School Athletic Association implemented a football playoff system. Since that time, Lakewood has sent four teams to the playoffs, in 1991, 1995, 1999, and in 2003.
Prior to 1972, the state championship title was "mythical" in that it was determined by the two high school football polls, the AP (Associated Press, writers poll), or the UPI (United Press International, coaches poll).
Many may not be familiar, but the Lakewood High School football Rangers are among Ohio's most winning high school football teams. According to a decade old Ranger media guide, the Rangers have accumulated 527 wins, which would put today's Rangers among the state's top 25 teams.*
In addition to the state playoff teams, numerous Ranger squads earned undefeated regular seasons including the '24, '41,'50, and '54 Rangers. Over the past century, the Rangers have won dozens of league championships and fielded particularly tough teams while playing a demanding Friday night schedule. In recent years, among the more notable Ranger squads include the '75, '80, '83, '84, '87, '88, '91, '92,'95, '96, '97, '99 and '03 teams.
Among the most feared Ranger squads were the 1967 Rangers.
In its final rankings 1967 season rankings, the Cleveland Press said, "Lakewood is still the best in the area. West Senate champ St. Ignatius is second, East Senate champ Collinwood is third, and Crown Conference tri-champ St. Joseph is fourth."
Said the November 9, 1967 Lakewood Ledger, "For several weeks the LHS squad has been ranked number one in the district and high up in the UPI (United Press International) state ratings. Coach (Robert) Duncan's 1967 aggregation has been as solid on offense and defense as any team fielded in the area in years. Not a single game played thus far has been a close contest. Lakewood has dominated every game and overwhelmed most of its opponents."
Stu Shestina quarterbacked the team. He reflected, "I think what made this team special was its workman like mentality. We were not a flashy bunch. We just went out and did what we were coached to do. The 1966 team had more rah rah leaders than we did. When it was time to speak out about something, we did. When things were not going right, we dug deep and got it done."
"There were some of us that got more publicity than others. Those "others" are the unsung heros. Guys like Gary Dvorak, Kit Potter, Tony Hoty, Bill Polinski, Rick Hoehn, George Kubas, Marv Hishmeh, Gary McDowell, Dave Mack,and Fred Benson just to name a few. Without those guys, some of the things that Al Krist, Bill Skrovan, Steve Hodgson, and myself we able to accomplish would never have been done," said Shestina.
"I grew up on the corner of Wyandotte and Franklin. Two blocks from the high school. It was easy to get to the school to watch games when I was young and to get to practices during the summer. I used to hang out at the stadium and at the basketball courts across the street. During summer practices, some of my teammates would come over to my house for lunch. They brought their lunches and we always had some drinks on hand. After lunch, the guys would find a place to lay down and take a nap. Then it was off to practice again," he continued.
"After I graduated from BG (1972), I was a graduate assistant coach with the football team for one year. From there I began teaching and coaching high school football in Cincinnati. I did that for 17 years and was fortunate to be on a team that won two state championships," he explained.
"I was an Athletic Director for the 13 years," Shestina continued, "I was at Hughes High School, Walnut Hills High School and Loveland High School. In 2005 I was inducted into the Ohio Interscholastic Athletic Administrators Hall of Fame," said Shestina.
In addition to Shestina's Bowling Green career, others from the '67 team went on to college careers at schools including the University of Kansas, Northwestern, Purdue, Ohio University, Wittenberg, and Mount Union to name a few.
Underclassman Gregg Gottermeyer, who had a big interception and 51 yard return against arch rival West Tech, commented on the experience of being a football Ranger, "I was raised as a Lakewood football fan, My father went to Lakewood and started taking me to Friday night games as a youngster. I dreamed of playing at Lakewood Stadium for the Rangers since I was in grade school. My 1st time being introduced in front of those Friday night crowds was something I still haven't forgotten to this day."
"Playing at Lakewood Stadium with a capacity of 13,000 was always a dream", Gottermeyer continued. "Besides Byers Field, Lakewood was the largest stadiums in Northeast Ohio and running out for game introductions was something that most of us will never forget. The crowds were fantastic and surely assisted in the success of the team. We had great fans...loyal & supportive," said Gottermeyer.
"(LHS) Hall of Fame members Al Krist and Steve Hodgson were special teammates. Neither were too big not to offer encouragement and both were leaders by example. Both Al & Steve would be 1st in line for individual drills, always on time, hardest workers, playing through pain and injuries. They did not miss practices and did not miss games. Will never forget (Bill) Skrovan playing 2nd half of Shaw game with a broken leg. Truly heroic in a losing battle," remembered Gottermeyer who now lives in Avon Lake.
Shestina concurred, "Playing at Lakewood Stadium was great. Nothing beats a Friday night football game in Ohio. We played in front of huge crowds at the time. People love to support a winner. I liked coming off the field at the end of the game and little kids would be outside the gate as we walked to our locker room. They would come up and pat you on the back and say nice things about the game."
This year's 2014 version of the Rangers features a new coach and visions of past successes. Shestina offered this advice to first year Coach Mike Ribar and the players, "My message to this year's team is, prepare and work hard. It's always tough when a new coach comes in. Be patient. Leave it all on the field," said Shestina.
Thanks to George Kubas and Jack Briggs who contributed on this story.
*The OHSAA acknowledged by email that Lakewood's more than 527 all time win total is missing from the OHSAA web site and steps are being taken to update this information. "You are correct that the reason Lakewood is missing from our all-time won-lost-tied list is simply due to not receiving an update from the school recently."- Tim Stried, director of Communications Ohio High School Athletic Association.
Tom George can be reached at TJGeorge1369@msn.com or 440-734-8177.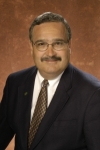 Thomas George
50+ years proud Lakewood resident BA Journalism, THE Ohio State University, Columbus, Ohio, general assignment reporter Ohio State Lantern daily newspaper active in civic and community affairs in Lakewood and Northeast Ohio for many years
Read More on Historical
Volume 10, Issue 18, Posted 4:26 PM, 09.02.2014