Nominations Sought For The Keep Lakewood Beautiful Organization's Beautiful Home Award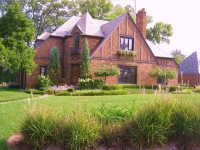 Once again it is time for recognizing our Lakewood residents who go above and beyond in an effort to make their homes glow with much tender loving care. Annually, the Keep Lakewood Beautiful, all volunteer organization sponsors a contest to honor the beauty of architecture, landscaping and impeccable maintenance of some of our fine Lakewood homes.
For over 25 years we have been presenting this prestigious award. We are seeking nominations in each of the seven elementary school districts so our judges can select one home in each, as the winner of a Beautiful Home Award. Homes are only eligible to win once. A list of the homes that are previous winners can be found at OneLakewood.com/KLB.
Studies have proven that when one neighbor improves their property, there is a domino effect and whole neighborhoods can realize a positive impact. Beauty begets beauty! So let's celebrate those neighbors who have worked so hard to paint, polish, plant, and trim, tidy and tuck point. Judging criteria will be based on maintenance, landscaping and overall beauty.
Nominations are due by August 31st and you are able to nominate as many homes as you think deserve this honor. Judging and nominations are made from the sidewalk and do not include the part of the back yard that can't be seen. Judging will take place during the first week of September. Winning homeowners will be notified by mail soon after that, so they can be ready to have their home photographed.
To nominate homes please contact the mayor's office at 216-529-6601 or email Luann.Baker@lakewoodoh.net. The mailing address is Keep Lakewood Beautiful, 12650 Detroit Avenue, Lakewood, Ohio 44107. The only information you will need to submit is the address of the nominated home. If you have the capability, you might consider attaching a photo. Single homes and multifamily homes are all eligible.
Recipients of this honor will be recognized at an upcoming City Council meeting and receive a brass plaque to grace their entryway, plus a certificate of recognition from City Hall.
So jump on your bicycles or grab the keys to your air conditioned car and check out some of the streets you've never been on before, to see if you can pick a winning home this year. Maybe it will be your neighbor's house or a home you've admired for years. Maybe you even deserve some praise for that new driveway and the beautiful shade tree you have so lovingly cared for or your new landscaping and refurbished porch. Let's see what you've have or what you can find! Thank you for helping us KEEP LAKEWOOD BEAUTIFUL!
Gail Higgins
Member of Keep Lakewood Beautiful Organization, Lakewood Garden Club
Read More on Home & Garden
Volume 10, Issue 16, Posted 3:05 PM, 08.05.2014