45 Years Ago This Month...July 4th, 1969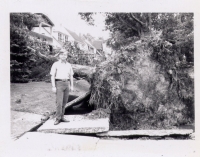 July 4th, 1969, started out like many other Fourth of July holidays on our stretch of the North Coast. Parents, children, and volunteer groups prepared to march in parades, made their last minute picnic preparations, and coordinated with their friends as to where to meet that evening down at Lakewood Park for the lakeside fireworks display.

At the same time, protesters across the country were preparing to express their displeasure at America's involvement in Vietnam. What had begun as a fairly non-violent exercise in peaceful protest in the mid-sixties, had degenerated into an ugly, no-holds-barred confrontational situation all over the nation. Lakewood had avoided much of the ugliness that had marred these protests in other cities, but officials were understandably wary of potential civil disobedience or violence, particularly on public patriotic holidays.

Unfortunately, the entire city was certainly not expecting the type of violence that would arrive at around 7 p.m. that evening.

Ask anyone who lived in Lakewood on that day, and you will hear tales of utter terror, mixed with many tales of sorrow and heroism.

I was with my rock band on Virginia Avenue. Ordinarily, the band might have been down at the Lakewood Park bandshell, but we were playing at the Virginia Ave. block party instead. Another band was playing at the Lakewood Park bandshell that day. I forget why we weren't down at the bandshell. Maybe we booked the Virginia engagement first; I don't really remember those details very well. I do remember our playing music on a front porch, and stopping for a break. It was then that the soft July breeze, cutting through the Lakewood sunshine, stopped being a breeze. In fact, it stopped altogether. In all of my life, I have never experienced such a quiet moment.

Then, it started.

First, a roar began that sounded like a horrible freight train coming. From my vantage point, it looked as if a solid gigantic gray waterfall was rapidly approaching from the Northwest. The band quickly started to put their equipment into the house.

And then, the derecho hit like a sledgehammer.

Forecasters mostly said that this North Coast disaster was the result of a fast-moving line of severe thunderstorms. Later, it was referred to it as being a derecho; a kind of straight-line storm, although quite frankly, it came up so suddenly that I doubt whether anyone could say with certainty exactly what it was that hit us. Apparently, it was indeed a derecho, and not a tornado. Some reports said the storm winds clocked in at 80 mph. Some said 100 mph. It was bad enough either way.

Whatever it was, Lakewood, and most of the Ohio-Erie coastline went into an abyss of fast-onset destruction that evening. Forty-two fatalities were registered in Ohio, with seven in the Greater Cleveland Area, and several in Lakewood, including a friend of mine from high school. Trees toppled or snapped in half like so much kindling, storm windows shattered, lawn furniture tumbled across yards, and family grills turned into flying saucers.

In the days after the storm, trees were cut up, electricity was restored, and debris was swept away. Those of us devastated by the loss of our friends had few counselors to turn to back then. School was, after all, out for the summer. For those of us who had recently graduated in the class of '69, we were forced to grow up fast. In a few weeks, we would experience the Moon landing on our black and white TV sets, and news reports from Vietnam would again dominate the headlines. Many of our classmates would soon be in the '"Nam" in person. Others, like yours truly, would move on to college. Still others would go on to jobs, families, or whatever.

In those weeks following the storm, I spent a lot of time with my guitar in the basement; wondering about the meaning of life--and about how friends our age could possibly be cut down at the very point that their lives were beginning to blossom.

I was into Bob Dylan songs back then. One of those was "A Hard Rain's A-Gonna' Fall," as sung by Joan Baez. While the song does mention tough times ahead, the last part of it, for me at least, marked a stirring call for action...the blue-eyed son who goes out before the rain comes, to help a weary world at the brink of the abyss.
Who was supposed to be giving this help to others? In the case of my friend who had died, it was thought that she might one day become a teacher. She was always helping others. Who was left to do the helping work in this world that needed to be done?
Well... I was a blue-eyed son...wasn't I?

That's one of the big reasons I went into teaching. Over the years, hundreds of children with special needs received help from a blue-eyed son; inspired partly by Bob, partly by Joan, and yeah, partly by my friend, and the terrible circumstances surrounding the events of July 4th, 1969.

I had the opportunity to thank Joan Baez personally, many years later; for her part in my personal spiritual epiphany. It was too late to thank my friend. Besides, there are some things that need to be done privately; in the depths of one's heart. I elected not to publish her name here, because I did not want to intrude upon her family's privacy; wherever they may be.
The old-timers here in Lakewood know who died, very well. We lost several of the best and the brightest of our youth on that day. We survivors had a lot to measure up to. Hopefully, most of us have at least tried to do so.

So many people never know how much they have inspired others to action. Perhaps it is enough that the action does happen. That day, July 4th, 1969, changed many lives forever here in Lakewood. Exactly how, is not only etched in the minds of those who experienced it, but also in the lives of those who were influenced by the infinite spirit of Goodness...and with that sublime inspiration that keeps this old world rolling along.
Read More on Random Snaps
Volume 10, Issue 14, Posted 3:28 PM, 07.08.2014