Lakewood's Theater Hero, Weldon Carpenter... What One Person Can Do...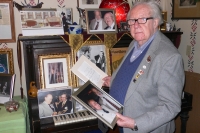 The Playhouse Square area was envisioned many years ago by several people as being the primary jewel in Cleveland's comeback. Though many could not see it at the time, there were early visionaries, without whom, the astonishingly wonderful Playhouse Square revival would not have happened.

One of those visionaries, and arguably, one of the ones who started it all, was Lakewood's own Weldon Carpenter. Long-time Lakewoodite Weldon Carpenter is now perhaps the only living direct connection to saving Playhouse Square, and in truth and by extension, saving Downtown Cleveland, as well.

With the untimely passing of Ray Shepardson a few weeks ago, lovers of live theater lost one of their most enthusiastic promoters regarding the preservation of classic theater buildings. Through the force of his personality, and his enthusiastic promotional skills, Shephardson was a vital part of saving Cleveland's Playhouse Square. Shephardson, a former Superintendent of the Cleveland School District, had been dismayed to learn that Cleveland's classic downtown theater complex was scheduled for the wrecking ball. Wanting to do something, but reportedly uncertain as to how to begin, he happened to tune in to an episode of "The Mike Douglas Show" on TV. A young man named Weldon Carpenter was being interviewed that day. Carpenter had been talking about Cleveland's decaying Ohio theater; which was a part of Playhouse Square. Carpenter had learned about the importance of theaters while growing up as a young man in Ashland, where he had taken a great interest in Ashland's Opera House. Shephardson decided to contact Carpenter, and reportedly persuaded him to move to Cleveland to help him try and save the theaters at Playhouse Square.

As the Playhouse Square Association was in its embryonic stages, Carpenter actually lived in the Playhouse Square complex for awhile. Carpenter helped Shephardson to sell memberships for the Association, and worked around the theater buildings, trying to get anyone who would listen to believe that the theaters could, and should, be saved. Finally by 1972, the Playhouse Square Association was able to stop the wrecking balls and seriously begin restoration efforts. Over time, the Ohio Theater re-opened in 1982, followed later by the State and the Palace, and finally in 1998, the Allen.

Today, it would be no exaggeration to state that Playhouse Square is perhaps, the brightest attraction in Downtown Cleveland, and indeed, in this part of the country. An enthusiastic Playhouse Square Historian, Lakewoodite Carpenter continues to be an advocate of live theater in all of its forms.

Think about all this for a moment, if you will. The theatrical stage has provided an essential entertainment and imagination escape for the world, from the times of ancient Greece, and even before. Promoters, directors, writers, set designers, costume designers, actors, and musicians have given us exciting and dramatic stage entertainment that continues today to be a bigger business than ever, in the form of movies, television, and live theater. With theaters, the performances could be comic, sometimes tragic, sometimes historical, sometimes musical, and at times, even conveying subversive political or social messages.

At one point, Lakewood had a dozen active theaters, a number of which are still standing; although only a few are still in operation as such, and those primarily serve live entertainment. With the coming of television, and the multiple TV channels that later became available, many successful movie theaters these days seem to have relocated to shopping malls; being housed in large multi-screen complexes. Although thousands of people continue to attend movies at the theater weekly, live theater performances can be a bit harder to find. Located in cities and in small-town community theaters like Lakewood's Beck Theater, many people still enjoy live productions whenever they can find them.

Lakewood's Weldon Carpenter has been around theaters and theater people for as long as he can remember. From his childhood days performing music on stage in Ashland and with the All-Ohio State Fair Band, (of which he is also the band's historian) through his college years at Ohio State and down to the present day, Weldon's heart has never been far from the stage. A prolific collector of theatrical memorabilia, Weldon is also an exceptional cook, having served as a "Chef to the Stars". Weldon informs us that he was Judy Garland's personal chef for several years at her home in Hyannis Port. Weldon reportedly served many other stars over the years, including Sally Rand, Mel Torme, and Ginger Rogers.

As the theaters at Playhouse Square began to open, Weldon was there, helping to support the efforts of the Association any way that he could do so. One of his more memorable moments was being there supporting the "Stomping at the State" show, marking the State Theater's return to glory.

It saddens Carpenter greatly to see Lakewood's Westwood Theater in the condition that it presently is. Code violations, and the decay of time have contributed to to putting that theater in our city's sights as being ripe for demolition. Knowing what a great success that a revitalized theater district can do for a city, Carpenter believes that the Westwood, and indeed, some of Lakewood's other currently dormant theaters, are essentially "diamonds in the rough" that, with imagination and foresight, could be brought back as important community buildings. As we all saw with the recent Playhouse Square festivities, Weldon's visions cannot be taken lightly. Theater districts like Playhouse Square, and Lakewood's Beck Center can be critical hubs in the success of a community.

Since the time of Ancient Greece, theaters have not only been a reflection of a society's past and present, but also, a reflection of its future dreams. When community theaters die, so do a community's dreams. Theaters are, after all, the ultimate reflection and celebration of our human imagination. When imagination disappears, what then will be left for a community to value?

Congratulations, Weldon. You are a wonderful example of how one person can make a difference in our world!
Read More on Pulse of the City
Volume 10, Issue 10, Posted 4:57 PM, 05.13.2014