A Musician's Musical Memories...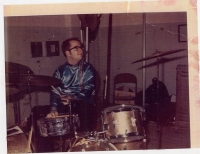 Since I've been "Guitar Guy Gary" for the Rock and Roll Hall of Fame in the past, many people are interested in that side of my musical life. While being a "guitar fixer-upper to the stars" was fun, I'd like to share some other musical memories with you this week.

As a child with musical parents, I was surrounded by music from the day I was born. I have so many great musical memories from my Lakewood childhood, and just in case you're wondering, it's never too late for YOU to learn to play and enjoy music as well! Fact is, back when I taught private music lessons, some of my best students were adults!

There are essentially two ways one can learn to play music, and they both work--in fact, if a person CAN learn BOTH ways, so much the better. The first way I'll call the "legitimate" approach. You get an instrument and a "Book 1" instruction guide, and then you find a good teacher and start practicing. The other way is to learn to play "by ear." Dad tried every trick in the book to get me to learn by "legitimate" musical instruction, but I was indeed a teen in the '60s, and the musical winds of change were coming along much faster than I could flip through the pages of "Book 3."
There were also "tricks of the trade" that the books did not teach you about popular music at that time. Guitarists, for example, were starting to bend their strings in order to achieve "country" and "blues" sounds and even achieve notes that could only be found in between the regular notes of a piano! If you tried blues-style string bending with a regular guitar in the early '60s, chances are you'd get blood on your hands! The secret to bending strings was that many professional guitarists used banjo strings to make those bends. Only later would commercial light and extra light strings become popular for guitars.

Like other kids growing up around music, I had my favorite songs and groups. That said, from the beginning, Dad trained me for the world of professional (that is, money-making) music. A working musician in Cleveland could make more money in two nights than many other young adults could in a week with their day jobs! Of course, if you wanted that kind of a paycheck, you had little choice concerning what style of music you played. For many musicians, THAT was the problem. If you ONLY liked (fill in the blank...jazz, rock, blues, country, polkas, etc...) then you were limited as to who might hire you, but if you could somehow do most all styles of music, then you could be working every weekend for one band or another.

Sure, I started in Lakewood's rock world, but by the early '70s, that world was changing. Adding to that was the increasingly "hazardous duty" aspect of rock. What was "fun" to an 18-year-old gets real old to a 20-something person. The other thing was the pay for "rock" engagements was often just not adequate. On the other hand, a polka or wedding band's private party might pay you good money!

Hopefully, my musical memories here will bring a few chuckles, and perhaps rekindle some memories of your own. My regular readers will remember the great story of that July 1970 Rock and Roll battle at Lakewood Park between my band, Skie, and the legendary Haze band for the championship of the city. Although a tie was awarded, I always personally thought that Haze had the more dramatic show, though both bands were indeed excellent.

One of our band's last "rock-type" jobs together was at a college frat party. Being interested in securing a quick load-in and exit, we arrived early. We parked our station wagon right by the door, loaded in, and played the job. When the job was over, we came out to a rather rude surprise. Normally, bands will have critics from time to time, but that evening? As the frat pledges and their mentors consumed, shall we say, a bit more of those less-than-holy spirits than they should have, our band's station wagon became a target of convenience for their unsettled stomachs. The vehicle was completely covered from stem to stern, with particular attention paid to the door handles and front windshield! It was a long drive home, as there were no all-night car washes to be found. Ah, critics...

One job that drummers sometimes had back then was to play the tympani, or kettle drums. Those huge round-bottomed drums were once an essential part of mounted cavalry troops, and today are still used to accentuate dramatic parts of musical compositions with thunderous rolls. One of the most dramatic of those rolls transpires on Easter morning to celebrate the risen Christ. Well, a drummer could get pretty good money for playing that drum roll. In fact, if you scheduled things right, you might even be able to cover two or even three different churches in one morning! Back in the day, I'd start down at Public Hall before dawn, playing for a Christian fraternal group. Then I'd hike the drums back to our church for that service. At that point, I might possibly even be able to squeeze in a 12:00 service at another church. It was really fun, for example, to hike those drums up a narrow staircase to a choir's balcony area, but I got the job done!

All went well with this activity for several years, but one year I'd played music late the night before. As a result, I was played-out! I set up the drums at a local church, tuned them up, looked over at the organist, and then began my dramatic roll, starting quietly and finishing with an ear-splitting roar. I had never played a better roll, and then I looked up, wondering when the rest of the music would start. The organist was shushing me with her finger to her lips. Gradually, I reduced my volume and concluded my dramatic performance, only to discover that I'd given the most thunderous introduction to a prelude that had ever been given...Seems I'd come in one song too early. Oops.

Shortly after that event, my tympani and I retired.

Lastly, I'll relate a more recent musical tale. I was volunteering with a guitar group at a church a few months ago, and while we were getting ready Jesus Christ came up to me and asked whether He could play my bass guitar. Refuse Jesus? Not me. Jesus, for the record, played very well, although His hair had a tendency to tangle up in the strings. I later learned that "Jesus" was there for a Passion Play rehearsal. I was seriously wondering at that point whether the Second Coming might be starting that very night!

These are but a few of many wonderful musical memories that I've had over the years. These days, there are monthly informal players' song circles and jam sessions all over the Cleveland area, and there are four great Lakewood music stores that offer private lessons (Dirty Town Guitar and Amps, Educators Music, Merrell Music, and Vance Music Studios). Remember, it's never too late for you to obtain a few musical memories of your own!
Read More on Pulse of the City
Volume 9, Issue 21, Posted 8:54 PM, 10.15.2013