Lakewoodites Always Leery Of Regional Attempts
Regionalism and the centralization of County services and government are subjects that are very much in the news today. Yet, these issues have been debated for nearly 100 years by area leaders and local residents.
Beginning in the early 1900s, several attempts were made by Cleveland area business leaders to merge Cleveland's suburbs into the central city. In 1910, for instance, Lakewood residents voted 1456 to 977 against a merger with Cleveland.
In 1916 another failed annexation effort was based on the slogan "Detroit shall not outstrip Cleveland" as at that time Cleveland was in fear of losing her title of "Sixth City" to her Michigan rival.
In 1919 Cleveland area business leaders, the forerunners of today's Team NEO and Cleveland+ attempted to merge Cleveland's suburbs into one large city through the process of a constitutional amendment providing for annexation.
Business leaders met at the Statler Hotel in downtown Cleveland to establish a committee whose intent was to merge the cities of Lakewood, East Cleveland and Cleveland and the villages of Bratenahl, Shaker Heights, Cleveland Heights, Euclid, West Park, South Newburg and Newburgh Heights into one governmental entity.
The Lakewood Press of Jan. 9, 1919 reported, "that this committee recommends to the board of directors of the Cleveland Chamber of Commerce that the latter send representatives to said meeting and acquiesce in and support the following propositions:
1. That wherever there exists in a single county a group of politically separate organizations, which are sociologically, economically, and industrially a single organization, the demands of economy and the application of sound public policy require that they be united politically.
2. That the cities of Lakewood, East Cleveland and Cleveland, and the villages of Bratenahl; Shaker Heights, Cleveland Heights, Euclid, West Park, South Newburg and Newburg Heights are sociologically, economically,and industrially a single organization and should, therefore, be made a unit politically,
3. That the proposed Constitutional amendment seems to present the only feasible means at the present time for accomplishing such unification and that the initiation of such amendment and its final ratification by the people of the state of Ohio are desirable and necessary;"
Lakewood elected officials and those of other municipalities fought the efforts vigorously.
The Lakewood Press of Jan. 23, 1919 reported: "Members of the executive committee of the Cuyahoga County Anti-Annexation League met Tuesday afternoon to consider further plans for the completion of an organization to fight the county-city merger legislation at Columbus. C. A. Neff of Bratenahl presided and Samuel Potter Burrill of Lakewood acted as secretary. Other representatives of the executive committee present were: Frederick B. Ayer, East Cleveland; A. J. Throckmorton, Cleveland Heights; W. J. Van Aken, Shaker Heights; Alvord L. Bishop, Euclid.
The reasons provided by Lakewood's Mayor B.M.Cook and other suburban officials who fought the annexation were reported in the Lakewood Press in January of 1919. The Press quoted Cook, ""Lakewood will increase its street lights from 500 to 800 this year while Cleveland lighting will be reduced," remarked Mayor B. M. Cook on New Year's Day, looking over the budgets of the two cities. "Lakewood is adding ten more firemen, an increase of 25 per cent in the membership of our department. It is opening one new firehouse and will add another firehouse before the end of the year. It will increase the membership of the police force. Cleveland on the other hand is reducing its fire and police protection below the safety limit."
"If Lakewood were annexed to Cleveland, we should be forced to reduce our street lighting and to submit to a reduction in fire and police protection. All of which would cost more taxes rather than less for Lakewood. That is one reason why there is practically no sentiment in Lakewood in favor of annexation," Cook continued.
Regional proponents argued in support. The Lakewood Press of Feb. 20, 1919 reported, "W. A. Stinchcomb, county surveyor, was the speaker at the weekly meeting of the Cleveland Real Estate Board Wednesday noon at Hotel Winton. He discussed "The Advantages of a Consolidated County Government."
"He said there are over ninety separate taxing subdivisions in Cuyahoga county, including Cleveland, the smaller cities of Lakewood, East Cleveland, and Newburg, and thirty villages, fourteen townships and a number of school districts. A proposed amendment to the constitution of Ohio has been introduced in the legislature and action will be sought within the next few days."
In the end, the 1919 county/city consolidation did not occur, although regional efforts continue to this day.
One hundred years later many of the arguments regarding the issue have a familiar ring. Author E.G. Lindstrom in the vintage publication, "Story of Lakewood" sums it up when saying, "From almost the very year of her birth as a city, Lakewood has had to fight for her corporate existence. Cleveland, once so far away, has expanded right up to the city line. Strangers passing through seldom know when they have left one city and entered the other.
In everything except government, the two are one. They are served by the same utilities, their streets merge without a break, and a majority of Lakewood citizens work in Cleveland and think of themselves as Clevelanders rather than as citizens of an entirely different municipality.
The generation of residents who came out when Lakewood was new, who built homes and saw property values rise with the city's bounding population, are now passing out of picture. Their places are being taken by newcomers who have no such sentimental attachment to the town, and who will therefore be more open to the old familiar arguments of the annexationists."
Lindstom concludes, "if Cleveland presents such a record of good government that it will erase the memory of past mismanagement, annexation may emerge from the status of a possibility to that of probability."
Tom George can be reached at (440)734-8177 or TJGeorge1369@msn.com.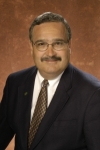 Thomas George
50+ years proud Lakewood resident BA Journalism, THE Ohio State University, Columbus, Ohio, general assignment reporter Ohio State Lantern daily newspaper active in civic and community affairs in Lakewood for many years
Read More on Historical
Volume 9, Issue 20, Posted 8:12 PM, 10.03.2013