Lakewood Residents Lead Charge To Clean Up Dirty Power Plants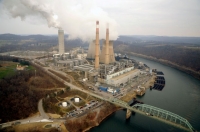 A new campaign from Environment Ohio to get pollluting power plants to clean up their act has found a supporter in Lakewood City Councilman Tom Bullock. As the Cleveland field organizer for Environment Ohio, and a Lakewood resident, I was thrilled to hear that our representatives are concerned about the threat posed by carbon pollution and committed to clean energy.
At a press conference for our report release, "America's Dirtiest Power Plants," Councilman Bullock said, "As a councilperson in Lakewood, neighbors tell me every day how committed they are to living sustainably, walking and biking more for their health, choose a car with higher fuel efficiency, and buying healthier food from local farmers and reducing food miles, increasing our recycling year by year. Clean energy makes sense for Lakewood and Northeast Ohio, and that's why we know we can clean up the oldest, dirtiest power plants that haven't been modernized and are damaging our health."
And that's exactly it. People doing their part is absolutely important, but if we continue to ignore the impact of the largest single source of carbon emissions, we simply can't make headway on this crisis. America's dirtiest power plants are the elephant in the room when it comes to global warming. If we want a cleaner, safer future for our kids, we can't afford to ignore power plants' overwhelming contribution to global warming. For Ohio, tackling the problem means cleaning up the dirtiest power plants, since Ohio's power plants are the second-most polluting in the country. Only Texas has more carbon emitted from their smokestacks than we do here.
This environmental crisis isn't abstract any more. It's not just about ice caps or the ozone. It's about the church that gets its windows blown out, or the families without power. It's the basement that gets flooded or the tree branch on your car.
Councilman Bullock has seen the impact of global warming firsthand. "We're already experiencing extreme weather events, from destructive wind storms to flooding across the state. Hurricane Sandy inflicted severe damage on Lakewood and other Northeast Ohio communities, even though we're far from the Atlantic Coast. As Mayor Bloomberg said, these severe storms are the 'new normal.' They threaten our safety, our health, and our environment, and scientists predict that if we continue to emit global warming pollution at the rate we do now, these events will only become more frequent and more severe."
This summer, President Obama directed his Environmental Protection Agency (EPA) to finally propose limits on carbon pollution from new and existing power plants, the largest single source of carbon emissions. In a major step, the EPA is expected to propose an updated rule for cutting carbon pollution from new power plants on September 20th. 3.2 million Americans have already submitted public comments in support of limiting carbon pollution from power plants-- more than a few of them from right here in Lakewood!
State leaders like Senator Sherrod Brown should join us in supporting limits on power plants' carbon pollution. Ohio is the second biggest emitter of carbon pollution from the biggest sources. We can't afford to wait to act on climate.
If you're interested in joining me in the fight to tackle global warming right here in Lakewood or have any questions about the campaign, send me an email at hvogel@environmentohio.org, or check out more info here.
Hannah Vogel
I'm the Cleveland field organizer for Environment Ohio, fighting for a cleaner planet from right here in beautiful Lakewood!
Read More on Conservation Corner
Volume 9, Issue 19, Posted 11:41 AM, 09.20.2013