Josie Kothera Selected As Barton Center's Volunteer Of The Year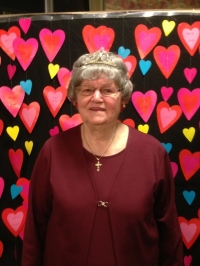 Josie Kothera was voted by Barton Center members as the 2013 Barton Center Sweetheart, or Volunteer of the Year. She was honored at a dinner held recently to recognize her years of volunteer service at Barton Senior Center. This was the 40th annual ceremony held to recognize Barton Center volunteers and was attended by over 100 members, including 13 previous award recipients.
Josie was born and raised in the Broadway/Union neighborhood of Cleveland. Her parents arrived here from Poland with their oldest son. Their family eventually included two boys and four girls, all of whom spoke Polish at home. Josie took odd jobs to help support her family, including bagging noodles, making bicycles for Western Auto, assembling baby clothes, and ushering at the Stillman Theater. She worked 23 years for Mueller Printing and more recently worked eight years at Bonnie Bell.
Josie married in 1949 and raised a son while remaining in the same neighborhood. When her husband died 15 years ago, her son was working in Lakewood and told her about Westerly/Barton Center. She moved in and began volunteering immediately, helping with the setup for lunch and dinner programs. Josie continued to help more and more, wherever she was needed. She said she enjoys serving people and takes pride in knowing everyone's preferences. Josie now labels and delivers newsletters to every apartment on 15 floors. She volunteers at BINGO, participates in the Barton Center Singers and has written over 700 cards to soldiers through the USO. Josie attends programs and activities every day. She likes to be around people and does not want to sit alone in her apartment. Josie says, "If you are bored at Westerly/Barton Center that is your own fault." While Josie has always enjoyed life, since she was given Last Rites several years ago, she now really appreciates every day and is happier than she has ever been. Others have commented that Josie is energetic, has a fun-loving personality and is a joy to be around.
Josie invites everyone to visit the Barton Center with its various shops, including Hodge Podge furniture and resale shop, Greenhouse, Corner Store, Fabric Shop and Book Nook. Membership in the Barton Center is available to anyone age 55 and over. To find out more about Ohio's first senior center, call Barton Center at 216.221.3400. Barton Center is located on the ground floor of the Westerly Apartments at 14300 Detroit Avenue and is open Monday through Friday from 9 a.m. to 3 p.m.
Read More on Seniors
Volume 9, Issue 9, Posted 10:39 PM, 04.30.2013