Cleveland Crops Coming To LEAF Night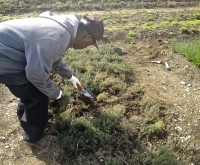 It's about 10 a.m. on a crisp April morning. Everyone is focused: heads down, eyes busy surveying the land, visually plotting where the next seedling is destined to grow. Others dig out a new wheelbarrow path, contributing only the steady scrape of their shovels to the aural landscape. Robins dance on the freshly dug beds that stretch across the field, which days before contained rows of hearty kale, collard greens and lettuce. Spring is here, and the workers on Stanard Farm are diligently preparing for the next growing season.
But this farm is unlike any other. Located just outside the St. Clair-Superior neighborhood on the Near East Side, Stanard Farm is a green oasis amidst miles of concrete. Just shy of an acre, Stanard Farm produces poundage of fresh produce in the thousands each year. A cutting-edge example of sustainable urban agriculture, the farm also uses season-extension techniques (such as the use of unheated low-tunnels and hoophouses) to allow for harvest beyond the standard Northeast Ohio growing season.
Stanard Farm was the first parcel acquired to start the Cleveland Crops farming operation. The Cuyahoga County Board of Developmental Disabilities and its non-profit affiliate SAW, Inc., in collaboration with the Ohio State University Extension-Cuyahoga County, developed Cleveland Crops as an agriculture training and employment program designed to provide work opportunities for adults with developmental disabilities. The program seeks to empower adults with developmental disabilities by teaching them skills that will make them more successful candidates for employment in the community.
Individuals working at Cleveland Crops live throughout Cuyahoga County, and several, like Billy Pearce, a LHS grad, commute via bus from Lakewood to one of the urban farm sites.
Workers are extensively trained on everything related to farming: seeding, watering, transplanting, creating raised beds, harvesting, washing and packing. After harvest is complete, workers accompany a staff member to deliver to area restaurants, often a mere 15 minutes away – the definition of local food. Last year, Crops also began a CSA (Community Supported Agriculture) program, which allows community members to purchase a weekly share of the harvest in exchange for one payment up front at the begin of the season.
But how does Cleveland Crops produce compare to the average store-bought vegetable?
"We can tell that the produce is fresh because it keeps in the refrigerator longer than anything we buy in the store," says Chris Yurick, who participated in the Cleveland Crops CSA program last season. Many CCBDD employees enjoy the perks of having a farm program associated with their workplace, including a weekly farmers market within the Board Administration Building. Many flock to the Crops market stand to purchase heirloom varieties of tomatoes and greens because they have intense flavor that can't be found at the grocery store. Chef Jack Ahern of University Circle restaurant L'Albatros sums up his admiration of Crops produce succinctly, "I'll buy anything you guys grow."
The program will be expanding its reach into the Greater Cleveland Area through its CSA program this year, with drop-of sites including LEAF Night in Lakewood and Walnut Wednesdays, a weekly lunch-time event aimed at downtown workers on their lunch break. Many of the farm sites, including Heritage Farm located in the Glenville neighborhood of Cleveland, also host their own farmers markets on or near the farm site, providing fresh produce to areas that are considered 'food deserts,' or districts with little or no access to large grocery stores that offer fresh produce.
In addition to providing steady work at a decent wage, Cleveland Crops crew members learn life skills. Some have started their own gardens at home or at a relative's house. Others have tried new vegetables that they otherwise never would have ventured to taste.
Cleveland Crops will begin distributing CSA shares and selling fresh produce, flowers and herbs at LEAF Night beginning Thursday, June 6.
For more information, contact Vicki Hamm at (216) 338-4258 or go to www.sawinc.org and click on the Cleveland Crops quick link to download a CSA membership application.
Victoria Hamm
Vicki works for Cleveland Crops, an urban farm program that employs and trains adults with developmental disabilities throughout Cuyahoga County. She is also a freelance musician and teaches cello lessons in Brunswick, Ohio.
Read More on Flora and Fauna
Volume 9, Issue 9, Posted 10:39 PM, 04.30.2013