The Church Of The Ascension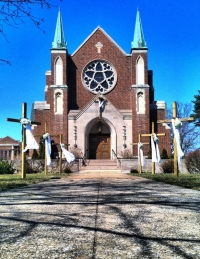 As Episcopalians, we are followers of Jesus Christ, the second person of the Holy Trinity. During this time in the calendar of the Episcopal Church, we celebrate the "Great Fifty Days of Easter." Also called, "Eastertide," this is the period lasting from Easter Sunday to Pentecost Sunday. These fifty days represent an especially joyful time for us as we remember the wonderful gift of Jesus' salvation given to the whole world in His life, death, and rising again to new life. The seven Sundays of Eastertide are commemorated at The Church of the Ascension, here in Lakewood, at 13216 Detroit Avenue by the seven crosses dressed in white and adorned with flowers. These same crosses had been dressed in purple during Holy Week and used in a rite of the church called "The Way of the Cross" on Good Friday. Jesus' victory over sin and death is now celebrated with crosses that shine white. During Eastertide, we also celebrate the feast of the Ascension of the Lord, the festal day of our own church, and one of the "Principal Feasts" of our faith tradition.
Our core values are these:
* to strive to love our neighbors as ourselves and respect the dignity of every person;
* to gather in a sacramental liturgy of ancient structure and traditions with the reading of scripture and a Eucharist of bread and wine (the Holy Communion);
* we uphold the Bible as the revealed word of God;
* we believe in amendment of life, the forgiveness of sin, and life everlasting;
* we honor the "priesthood of all believers" in the inclusion of lay people in the governance and ministry of our church;
* we invite all baptized Christians, not only members of the Episcopal Church, to Holy Communion;
* we affirm that committed relationships are lifelong and monogamous and bless all such committed relationships. Episcopalians also recognize that there is grace after divorce and do not deny the sacraments to those who have been divorced.
* we affirm that issues such as birth control are matters of personal informed conscience,
* and we celebrate our unity in Christ while honoring our differences, always putting the work of love before uniformity of opinion.

All are welcome to share a spiritual home in our Episcopal Church!
Read More on Religion
Volume 9, Issue 8, Posted 9:37 PM, 04.16.2013