Help To Others (H2O): Drops Of Kindness Create Ripples Of Change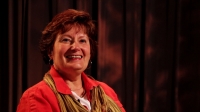 This is the final story in a three-part series featuring special people and organizations that have a unique relationship with Help to Others, H2O, a Lakewood institution that is celebrating its 20th year of teaching and inspiring middle- and high-school students to volunteer and do what they can to make the world a better place.
Thousands of people have been touched by H2O's service learning program during the past two decades. Here is just one of those stories.
For close to 19 years, Celia Dorsch and H2O were synonymous. The two remain inextricably linked.
As H2O's founding coordinator, Dorsch has often been described as the heart and soul of the nationally recognized youth volunteer program. But if you ask her, she'll argue that she was one of many who made it successful and that H20 benefited from a little help from the universe.
The stars aligned at its inception when the City's Division of Youth proposed to create and staff a unique new program that would provide a framework for students to volunteer and make a difference in their community. The idea was embraced by Lakewood City Schools and a partnership was formed, allowing H2O staff to launch its initial program at Lakewood High School.
"When I look back on it I can't help but feel honored and humbled that I was able to be a part of the program's development," said Dorsch, who retired at the end of 2011 but remains one of H20's most committed champions. "Just imagine going to work every day and being with kids who are excited about volunteering and doing great things in the community."
That original collaboration is stronger than ever today, expanding to include middle school students throughout Lakewood. H20 student volunteers serve at 60 community events and more than 40 non-profits in the Cleveland area. In 2011, 333 high school volunteers logged 3,682 hours of service, 222 middle school volunteers logged 899 hours, and 198 middle summer campers logged 3,960 hours of service.
"We make it easy for students to get involved, especially at the high school level. They can come and go into projects. They can do it with friends. Ninety-nine percent of the time it's fun," she said. "And in the summer camp, the counselors instructing the middle school students have all come up through the program creating a beautiful progression of mentorship."
National studies have shown that the teen years are a critical time for developing empathy, awareness and a broader perspective of the world.
"It's been a blessing to me personally to work with the program and these amazing youth. I feel it's been a blessing on the community. I know how much being able to be involved in the community has blessed the kids," Dorsch said.
She expressed her gratitude for having Nora Steele as a partner for 18 years during the development of the program and for all the critical support provided by the staff at Lakewood Division of Youth under the leadership of Mary Hall.
"One of the most gratifying things at the end of my career was to see it go into the capable, caring hands of Emmie Hutchison," she said. "To have a person from within the community who had a child in the program, who totally gets what H2O is about, and to see that that program has such strong legs to move into the future -- that's awesome. Emmie and H2O Assistant Coordinator, Vanessa Lange, are working with the kids to create wonderful new projects and frontiers for H2O."
Join the celebration as H20 kicks off its 20 years of service to the Northeast Ohio community with a night of fun, festivities, and philanthropy at the H2O Tributary Bash, Saturday, February 23, 2013, 7 to 11 pm, at the Lake Erie Screw Factory, 13000 Athens Avenue in Lakewood. Tickets for the main event are $50. Sponsorship opportunities, starting at the $100 level, are also available. For more information, to purchase tickets, or to sponsor the event, visit www.thelakewoodfoundation.org/H2O/ or call 216.529.6870.
Read More on Civic Groups
Volume 9, Issue 4, Posted 9:31 PM, 02.19.2013