H2O's Martin Luther King, Jr. Day of Service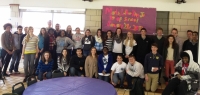 One of the well-known quotes by Dr. Martin Luther King Jr. asks: "Life's most persistent and urgent question is: 'What are you doing for others?'" H2O volunteers answered that reflective question by committing their time to volunteering in their community on Martin Luther King, Jr. Day. In doing so, they have become part of a movement to turn the national holiday into a "day on, not a day off." This call to action reminds us to make service part of our daily lives and to generate kindness at every opportunity. The work done by these Lakewood kids exemplifies that concept.
Student leaders played a large role in the event by brainstorming service site potentials, advertising the event to their peers, planning activities, following up with registrants, and extra responsibilities on the day of the event. There were 40 students who went to six different sites. One group went to the Westerly and helped residents there sort donated pet food with My Best Friend's Bowl, a local organization dedicated to providing a temporary supply of food to the people in our community and their pets, with the goal of keeping pets and their owners together. Another inter-generational event took place at Crestmont North Nursing Home, where volunteers played games with elderly residents. Others had the chance to interact with small children when they went to Lakewood Child Care Center to help with flu-season disinfection of play areas. Eighteen students who participate in Asian Services in Action (ASIA)'s tutoring program joined our volunteers for a morning of enriching crafts and games (and had a great time!). Another group had the opportunity to set up an apartment for a newly-arriving refugee family, through a partnership with Catholic Charities Migration and Refugee Services. They set up beds, linens, toiletries, and kitchen necessities to welcome the family to their new home. Several of our volunteers picked up medical supplies to take to Medwish International, a non-profit organization whose mission is to repurpose medical supplies and equipment discarded by the healthcare industry with the objectives of providing humanitarian aid in developing countries to save lives and reducing solid waste to save our environment. Finally, a group was invited to Hospice of the Western Reserve where they made dementia kits to assist people with memory loss. Each of these sites and partners helped make a meaningful day of service and taught H2O's volunteers about their mission and further ways to help others.
The program followed by lunch at the Women's Pavilion at Lakewood Park, where participants enjoyed pizza donated by Papa John's in Lakewood and potluck food provided by volunteers. Afterward, the day was concluded with some reflection on the morning of service and of the words and legacy of Dr. King. This part of the program was provided by Lakewood High School teacher Joe Lobozzo and his student leaders from Race and Diversity (RAD). They planned a small group and activity and a moving video tribute to Dr. King and other civil rights leaders. It was a perfect capstone to a special day. Many thanks to Papa John's in Lakewood, H2O's student leaders and volunteers, our service partners, Joe Lobozzo, students from RAD, and our many, wonderful, adult volunteers.
H2O is sponsored by the City of Lakewood's Division of Youth Office. H2O receives tremendous support from the Lakewood City Schools, generous donors and a dedicated group of adult volunteers.
Read More on Civic Groups
Volume 9, Issue 3, Posted 9:58 PM, 02.05.2013