The Story Of Dirty Town Guitar & Amps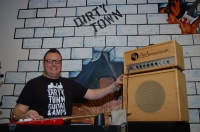 No question about it, our own Lakewood has been a hotbed of music, musicians, and musical development, ever since we hung out our city's shingle over a century ago. Those ubiquitous bars and night spots spilled music into Lakewood's red brick streets since well before you and I were born, and that music mixed and mingled with the numerous high church organs and carillon bells that marked the evening Angelus chimes and Midnight Masses. The schools too, have long echoed Lakewood's eclectic musical experiences with a long and continuing tradition of instrumental and vocal music excellence. The list of Lakewood's musical educators, performers, and inventors is a long one indeed. From the legendary baton of Lakewood Schools Director Arthur Jewell, to performers and entertainers like bandleader Sammy Kaye, steel guitarist Alvino Rey, (Alvin McBurney) legendary guitar and electronics designer Dan Armstrong, (who had been one of Mr. Jewell's students) to so many others, Lakewood has experienced, supported, and developed more musical talents than I could ever list in one column. Local performance venues like Mahall's, The Phantasy, and the Winchester, continue to support our effusive local music scene. Lakewood retail music establishments like Marrell's Musical Instrument Repair, Educators Music, and Vance Music Studios, also all contribute to the ever-present-and-mighty musical pulse of this city.

To that vibrant list of retailers comes yet another store. Dennis Bielinski and partner Alan Ross officially opened Dirty Town Guitar & Amps back in August of 2011 with the goal of providing expanded professional guitar and amp repair, service, and support to the musical community. Dirty Town Guitar & Amps deals with used and vintage guitars, amps, and sound re-enforcement equipment, as well as having several lines of accessories. Guitar, amp, and electronic adjustment and repair remain a primary focus of the business. (The name "Dirty Town", by the way, came from the old CB radio days, when that was considered a slang name for Cleveland. In no way whatsoever does Dennis feel that Lakewood is dirty!)

In fact, there's no doubt about it- Dennis LOVES Lakewood. Coming from the Sandusky area music scene, where he once had a store, Dennis felt that Lakewood was an ideal location to hang out his own new shingle. Dennis is absolutely passionate about supporting our local music scene, even to the point of dedicating an entire display cabinet to the sale of local artists' music. Dennis truly feels that Lakewood is indeed the heart of Northeast Ohio's music. Dennis relates that he has never seen so much great musical talent in one community. To hear Dennis talk about our city in such glowing terms helps one to appreciate the fact that we do indeed have so many positive and oftentimes little-known aspects of our city to discover and appreciate.

Dennis and his partner Alan Ross are also joining the ranks of Lakewood's inventors and innovators by coming out with a brand-new professional guitar amplifier. In a highly competitive market, and during these challenging economic times, that would seem to be a daunting task indeed, but Dennis was already a co-designer of an innovative guitar stand, so the Dirty Town amplifier line is simply an extension of Dennis's ever-creative mind.

Unlike relatively neutral and clean sounding stereo equipment, guitar amps naturally tend to "color" the total output of a guitar's musical sound, particularly in the world of rock and roll. Generally speaking, guitarists often purchase an amp that they perceive will match the sounds that they want for certain styles of rock, blues, or country music. I had the pleasure to try out Dennis's home-grown first prototype Dirty Town amp. Unlike many other amps, this one is fully capable of playing very clean tones for jazz or church use, yet is also more than capable of clean tones in a country music venue, crunching in a blues club, or full-blown in-your-face distortion in a rock and roll venue. The prototype comes with a gorgeous figured maple cabinet with matching extension speaker. A variety of cabinet and finish styles, speakers, tubes, and transformers will reportedly be available to match the individual customer's wishes. So far, the amp is planned to soon be available in 3 sizes; having either 5, 18, or 50 watts. The one I tried was the 18 watt version, and it was more than loud enough for anything that I might want to use it for.

Amps like these, being very labor intensive, hand-made, and being point-to-point wired on a turret board, do not come cheap. Expect to pay starting prices in the neighborhood of $500 for the 5 watt model, $1450 for the 18 watt amp, and $1750 for the 50 watt model. Expect to wait awhile too, but, as Dennis points out, amps made like his can often last a lifetime- and just as importantly, can be readily repaired and serviced by professionals. Dennis feels that many less expensive amps cannot be serviced as easily, and often end up being virtually disposable. He reminds anyone who purchases a less expensive amp to be sure to fill out their factory warranty cards, in the event of trouble later on. He hopes that anyone considering the purchase of musical equipment will look for fine quality and value first.

Dirty Town Guitar & Amps is, in fact, a warranty repair station for several major companies.

Dennis is currently offering a private lesson deal where, for the cost of 8 guitar lessons, ($200) the student will receive a free guitar, personally set up to play well by Dennis himself! Store hours are 11:30 a.m. - 7:00 p.m. Monday-Thursday, 11:30 a.m. - 6:00 p.m. Friday, 11:30-4 Saturday, and Sundays by appointment. Dirty Town Guitar & Amps is located at 15230 Madison Ave. Phone (855) DT-4 TONE

Welcome to the pulse of our city, Dirty Town Guitar & Amps!
Read More on Pulse of the City
Volume 8, Issue 25, Posted 10:01 PM, 12.11.2012