Wreath Sale - Lakewood Historical Society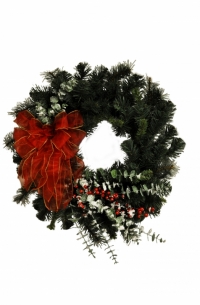 Lakewood Historical Society Wreath Sale --- Celebrate the holiday season by displaying a beautiful, handcrafted 30" mixed greenery wreath adorned by artificial snow-covered eucalyptus and red berries. The wreath and red ribbon with gold trim were crafted in the USA. Proceeds benefit the programs and projects of the Lakewood Historical Society and support the operation of the Oldest Stone House Museum and The Nicholson House.
Place your order NOW online at www.lakewoodmuseumstore.com or call 216-780-2222 (please enter area code). Price per wreath is $35 ($17.50 tax deduction per wreath). Fresh wreaths will be ready for pick up Wednesday, November 28, from 9 a.m. to 4 p.m. and Thursday, November 29, from 9 a.m. to 7 p.m.
Annette Millisor
Co-Chair Lakewood Historical Society Wreath Sale
Read More on Home & Garden
Volume 8, Issue 23, Posted 10:37 AM, 11.14.2012