Vintage Varieties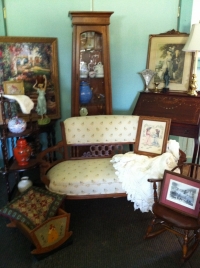 The Lakewood Historical Society's third annual Vintage Varieties is Saturday, October 13th, 9 a.m. – 1 p.m. at the Skate House, behind the Oldest Stone House at 14710 Lake Avenue.
This sale features vintage and contemporary small furniture; lamps and light fixtures; a huge variety of artwork, mirrors and picture frames; home décor; lawn and garden; tools; hardware (including glass door knobs) and fall decorations. Ready for a fire in the fireplace? Need a new screen or andirons? You'll find them here.
Of special note are items to put away for the kids for Christmas—you won't find these things at any toy store! Among the selections are two doll houses, a vintage high chair, two tiny metal folding chairs, a sturdy retro tricycle, and a miniature but realistic wooden kitchen cupboard.
The proceeds from this sale support the programs and properties of the Lakewood Historical Society.
There are many bargains to be had. You may find just what you've been looking for, or a special treasure that you can't live without. Come explore—the quest alone will be fun!
Read More on Historical
Volume 8, Issue 20, Posted 8:58 PM, 10.02.2012