The Art Of Marriage Conference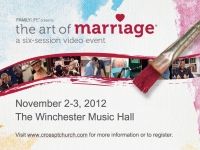 Cross Point Church will be hosting a marriage conference Friday and Saturday, November 2-3, 2012. The Art of Marriage event is a video guided conference divided into six dynamic sessions. This event will provide couples with the opportunity to grow and strengthen their marriage relationship.
Location for the conference will be held at The Winchester Music Hall, 12112 Madison Ave. The event runs from 7 - 9:30 p.m. on Friday, November 2 and 9 a.m.- 4 p.m. on Saturday, November 3. Total cost for the conference is $40 per couple, which includes manuals, refreshments and lunch on Saturday.
Registration deadline is October 15. Visit www.crossptchurch.com for more information.
Read More on Religion
Volume 8, Issue 20, Posted 8:58 PM, 10.02.2012